SEO Case Study
A Local Successful SEO Campaign in a Competitive Market
Peter from PeterThomasPhotograpy came to us 5 or 6 years ago with no visibility in the organic search results. Like every client he was aware of the importance of high rankings in Google, and what it could mean to his business.
We've worked closely with Peter helping his website become one of the most visible if not the most visible websites in the orangic listings, the Google My Business listings and Google AdWords listings for many of the big, very profitable wedding photography keywords.
This has been replicated on the second most popular search engine Bing.
We've also worked on the Google Analytics setting up goals and events that have helped measure website performance and build and develop his online marketing strategy.
No1 Rankings in Google Organic & Google My Business
The screenshot below shows a search for the competitive term 'Wedding Photographer Northern Ireland'.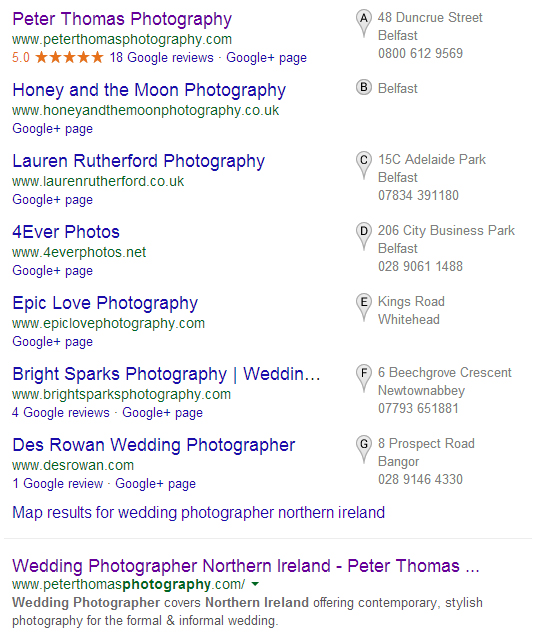 The screenshot below also shows the site performing extremely well in Bing's search engine.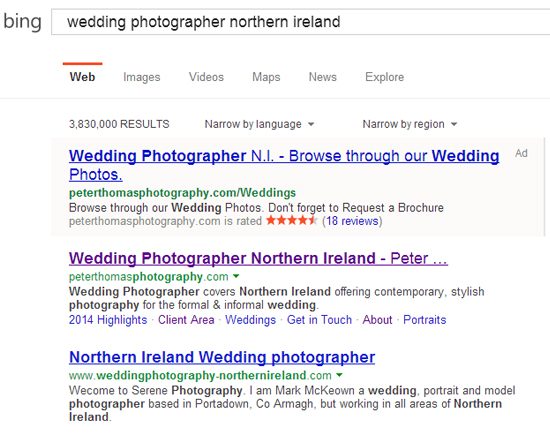 Need to get your local business higher up the rankings? or struggling to find out why your site doesn't rank? Get in touch to find out why.