Revenue from Google Shopping up 1084.6%
Project Overview
When the client originally contacted Codefixer in January 2019 they had an existing Google Ads campaign with another Google Ads agency but were disappointed with the results they were receiving. The client was struggling to generate a high enough return on investment on their online marketing to warrant the cost to both, Google Ads, and the agency fees.
The client is a retailer who sells household goods from well-known brands with strong reputations and high search volume on Google. These products retail at between £200 and £600. Knowing that these products had significant potential despite the lack of results, and after hearing about Codefixer the client turned to us to create a marketing strategy that would help them generate more revenue online to complement their existing business serving retail clients in Northern Ireland.
Proposal
Due to users already being familiar with the brands and products the client supplied, we designed a strategy that would allow them to bolster their existing in-store retail clients, as well as targeting users across the UK searching for the household products the client sells.
We proposed that we create a Google Ads campaign consisting of search campaigns, display campaigns, and shopping campaigns. This would allow us to capitalise on the existing customer base in Northern Ireland, whilst also selling a large volume of products to users across the UK who were not able to visit the store in person.
The client advised us that due to the competition around the product, we would be working within tight margins and would need to achieve a return on ad spend of 10:1 to make the campaign profitable to the point that it would be worth running.
There were additional challenges and overheads of operating across the UK such as arranging and managing the logistics of shipping large house-hold good across the UK. This was a particular issue that other retailers who were based in England, Scotland & Wales would be less impacted by. Shipping from Northern Ireland to England, Scotland and Wales introduced additional costs,  time, and resources. As such, we needed to be able to be as profitable as possible to compete with the multi-nationals with deeper profits and extra resources.
Strategy
We decided to create a strategy that would accomplish several tasks. First and foremost we needed to sell household products to the UK with a target return on ad spend of 10:1, without this, the account would not be sustainable. Secondly, we needed to increase the number of local customers and encourage more visits to the brick-and-mortar store. Next, we needed to bolster the rental service that was provided were users could lease household goods. Finally, we needed to ensure that we were targeting the correct users with display ads to recycle the clicks we had received from the search campaign and discourage cart abandonment.
We planned for a Brand campaign, where we could tailor our ad messages and extensions to users to encourage on-line sales and store visits. This also allowed us to protect our position on the search results from competitors who were bidding on brand keywords at the time.
An extensive shopping feed would need to be created which segmented high and low-profit items to ensure we were not overpaying and able to achieve the 10:1 ROAS, it would also need to be completely optimised to guarantee as best performance as available.
We would need to have incredibly segmented audiences in Google Analytics to make sure we were able to serve users with the most relevant message possible.
We would also need to create audiences for the rental campaign display images, and curate search campaigns for this, albeit a lesser priority than e-commerce sales.
Execution
We wrote an extensive guide on how to build a profitable Google Shopping campaign which breaks down the exact steps we took to create and manage the Google Shopping side of things.
To begin, we needed to create a Google Shopping feed which included each of the products which we were planning to promote using the Google Shopping campaign. This was made somewhat easier by the content management system the client used for their website, this allowed us to use existing attributes on the product pages in the shopping feed. Once we had generated this feed we added extra fields for custom labels, improved descriptions, product categories, and added GTINs for each product. GTINs are unique product identifiers that allow Google to recognise each product by a unique identifier. This is used frequently on bar codes on products you use every day.
Once we had the shopping feed, we need to create the shopping campaigns. We created 4 campaigns in total. Two campaigns targeted Northern Ireland for larger house-hold goods which would be delivered locally rather than shipped to the UK, we then created two campaigns targeting the UK (Excluding N.I) with the products which we were going to sell across the Irish Sea.
To go side-by-side with the Google Shopping campaign we created search and display campaigns.
We created a brand search campaign and targeted Northern Ireland. The reasons for creating the brand campaign is to prevent competitors from bidding on brand terms and potentially poaching traffic. We could also use this campaign to test the copy and extensions of ads to maximise brand conversions and to use this campaign as a live environment to test messaging to be used elsewhere on the website and other ads.
We created some display campaigns for brand awareness and to generate e-commerce sales. The first display campaign was created using various display images for sale items in a variety of dimensions. There was an ad group created for each of the products which were targeted to in-market audiences for these products. Subsequently, there were additional display campaigns created for sales, such as Black Friday targeted at remarketing users audiences, and placements.
Following this, we created a dynamic remarketing campaign using the shopping feed for our best selling products and targeted these towards users who had visited these product pages through a paid ad on Google but not converted.
Result
The Google Ads results were immediately obvious to the client who immediately noticed an increase in sales through the website and by January 2020 we had achieved a ROAS of 25:1 against a target of 10:1.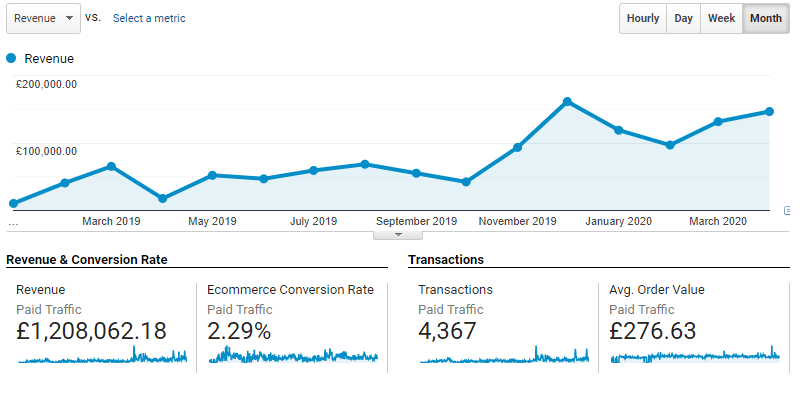 Results comparing January 2019 with January 2020.
Return On Ad Spend (ROAS) of 25:1 ✔️
Clicks from Google Shopping up 939% ✔️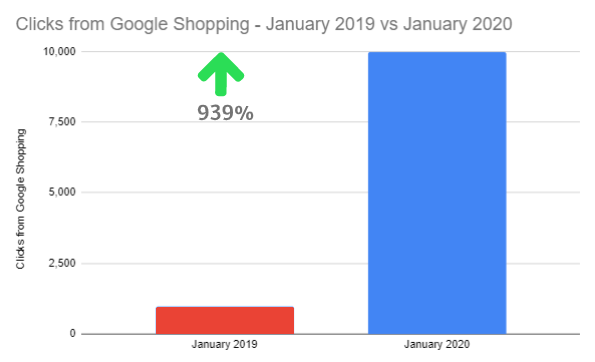 Sales from Google Shopping up 1083.87% ✔️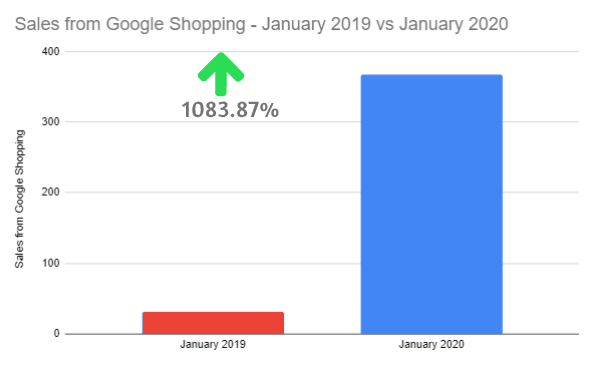 Revenue generated up 1084.6% from Google Shopping ✔️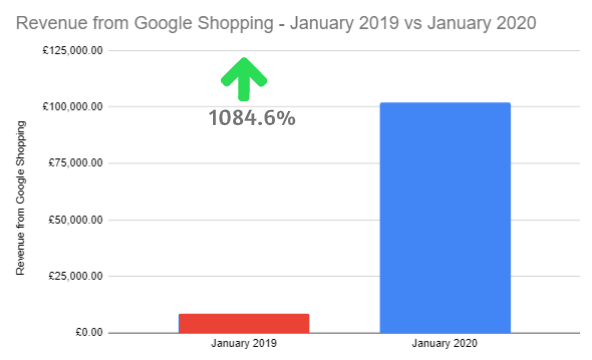 Cost per sale down 75.97% year-on-year ✔️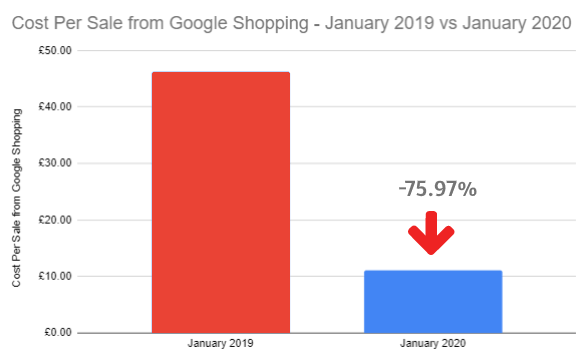 Conversion rate up 213.93% compared to the previous year ✔️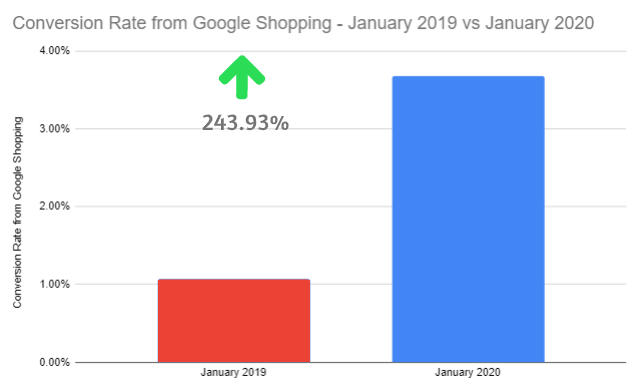 Have a project you would like to discuss? Contact us!