Leads generated from Google Ads up 585%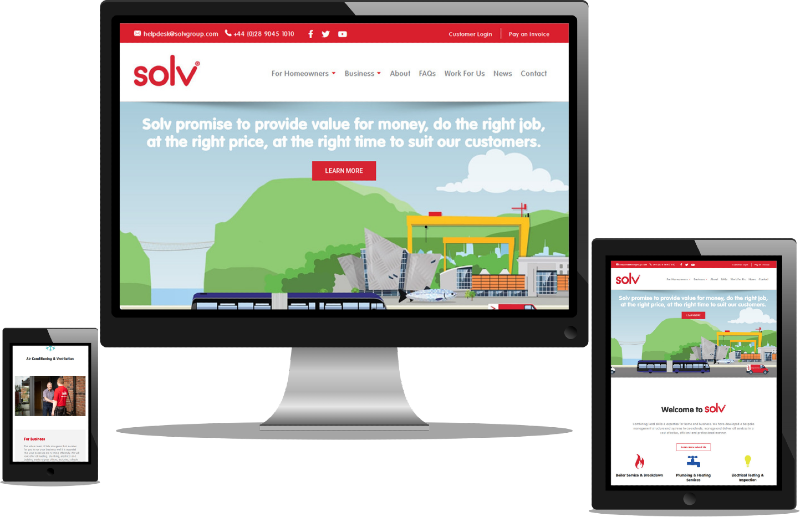 Project Overview
When Solv Group originally contacted Codefixer in November 2018 they had a website that was becoming increasingly outdated and was not mobile-friendly. Solv Group was ambitious to expand and grow the business though struggling to generate business through the Google Search results.
Originally we identified that there were issues with the website that would negatively affect, both, user experience, and search engine rankings.
We needed to come up with a short term strategy that would ensure Solv Group would immediately begin to generate traffic and leads from Google, and a long term strategy that would ensure users in the future would be as likely as possible to convert, as well as building brand trust and prominence in the local search rankings.
Proposal
To generate leads immediately from Google we suggested a Google Ads campaign, this would consist of Search campaigns, and a display campaign targeting several audiences & placements.
For our longer-term strategy, we proposed an SEO audit to identify the issues on the existing website, and slightly further down the line, a new website.
The new website needed to represent the brand & company ethos, work well on mobile phones, load quickly, and most importantly, rank in the search results and generate leads.
Strategy
The Google Ads Campaign would consist of a variety of search campaigns targeting the services offered by Solv Group, namely their gas engineering services, boilers, heating, & commercial electrical services. We also needed a brand campaign with ad extensions designed to generate contact form completions and telephone calls, both of which we were able to track and analyse.
The brand campaign not only allows us to closely tailor our message for our customers but also allows us to protect ourselves from competitors bidding on our brand keywords and potentially poaching Solv's customers.
We would need to conduct a comprehensive SEO Audit which would identify issues that were limiting the performance of the existing website in the search results, and also help to design a new website that was SEO friendly. In the short term, we'd also have to create a migration strategy that would protect avoid any significant drop in organic traffic.
Execution
We first got working on executing the Google Ads strategy given the requirements of the clients, the points in the proposal, and the feedback from Solv.
We used Google Analytics, Google Ads, and Google Tag Manager to create goals which allowed us to track the performance of the Google Ads campaigns and identify which searches were generating leads. We tested landing pages, ad text, extensions, and keywords, as well as continually monitoring the search terms report and adding any negatives for competitors or irrelevant searches. This was constantly improved (and still is today!) to guarantee that we were squeezing every single lead from the Google Ads campaign as possible.
Our SEO audit had to be comprehensive to mitigate any risk of the website migrating to a new platform and each point had to be analyzed with a fine-toothed comb. This resulted in a 22-page document covering each aspect of the website. We also added Solv Group to our keyword tracking software for their priority keywords to allow us to monitor how their rankings in the search results were improving from our SEO efforts and the new website.
Once we had our SEO audit we were ready to work with our design guys to design a bespoke, beautiful creation that Solv Group could be proud of! The new web design project from there went on to our developer who worked continually with the client to ensure they were 100% happy with the website that would now represent their brand for any user who found them online.
Result
The Google Ads results were immediately obvious to Solv Group who immediately noticed an increase in calls. This was paired with monthly reports and updates to let Solv know how the account was performing, what our plans were, what our challenges were.
This allowed us to communicate closely with the client to understand their business objectives, rather than sending arbitrary marketing jargon each month!
Solv Group went from receiving 11 recorded leads through Google ads in December 2018 to 68 leads in the following December 2019, with continual account improvements month-on-month. Google Ads has since become an integral part of Solv Group's lead generation strategy and allows them to target specific types of jobs in the industry to respond to their availability & growth plans.
Since the new website went live Solv has had considerable success from Organic Traffic. When comparing the traffic from January, February & March in 2020 compared to 2019, the number of users from Organic Traffic was up by 90.01% and Goal Completions increased by 586.67%.
Results comparing December 2018 with December 2019.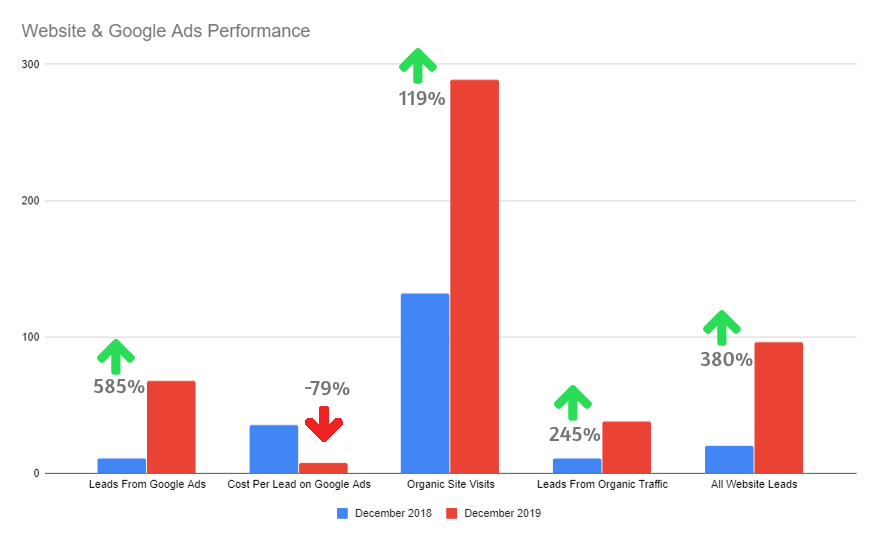 Leads generated from Google Ads up 585% ✔️
Cost per lead on Google Ads down by 79% ✔️
Organic website visits up by 119% ✔️
Leads from organic traffic up by 245% ✔️
Leads from all sources up by 380% ✔️
Have a project you would like to discuss? Contact us!