With Christmas just around the corner, here, at Codefixer this also means it's the time of the year for us to resit our Google Ads certificates! Last time around we put together a step-by-step guide on how to accomplish this, however, since then things have changed significantly with Google Ads and the process of getting certified. This article is an updated guide reflecting some of the changes to the Academy for Ads. Below we will show you exactly how to get Google Ads certified!
Benefits of Becoming Certified
By becoming Google Ads certified you can demonstrate your expertise in online advertising, making you instantly more attractive to potential clients and employers.
Becoming Google Ads certified can also help your agency in earning the Google Partner or Premier Google Partner Badge. For agencies to earn their badge, at least one member of staff needs to be Google Ads certified along with a few other requirements.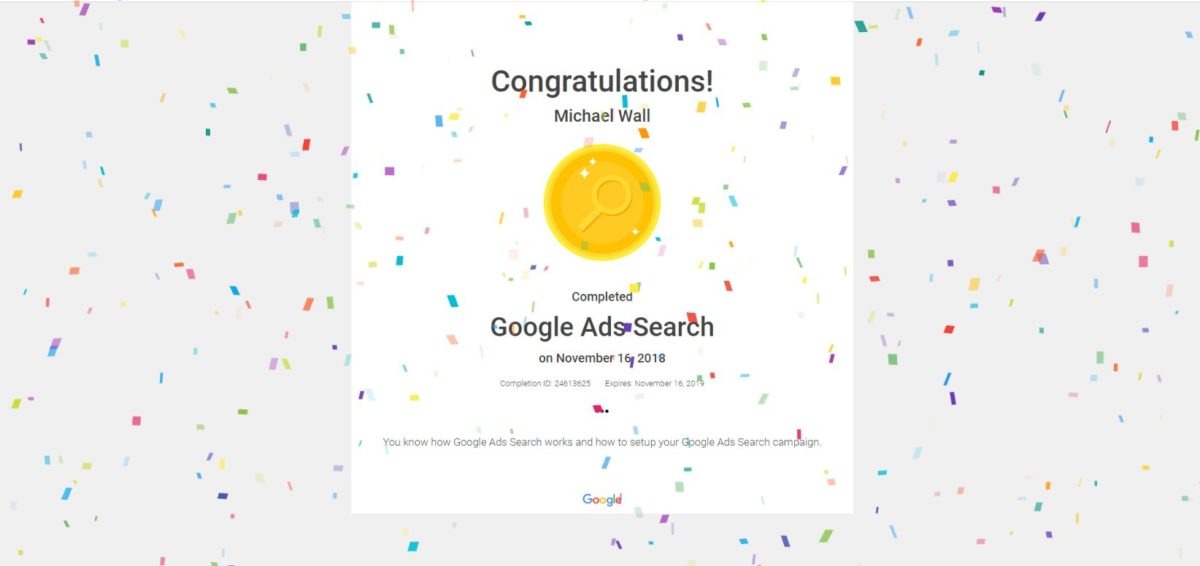 Assessment Details
To become Google Ads certified you must achieve 80% in 2 Google Ads Assessments – Google Ads Fundamentals and a second Assessment of your choice (Search, Display, Mobile, Video, Shopping).
The assessments are completely free of cost and if you don't pass the first time you have to wait 24 hours before you can retake it.
Your certification is valid for 12 months, after which you will then have to retake the assessment to ensure you are up to date with all new Google Ads features.
All assessments have multiple choice questions as well as a time limit. Once you've submitted your answer for each question there is no returning to previous questions. See exam details below;
Fundamentals (65 questions – 120 minutes)
Search Advertising (100 questions – 120 minutes)
Display Advertising (100 questions – 120 minutes)
Video Advertising (74 questions – 90 minutes)
Shopping Advertising (63 questions – 90 minutes)
Mobile Advertising (70 questions – 90 minutes)
How To Access the Assessments

Create a Google Partner Account
Before you begin you have to set up an account with Google Partners in order to access the certification assessments.
All you have to do is create your profile and fill in some simple personal details. You will also have the ability to add your company affiliation. Click here to create your Google Partners account
Academy for Ads
Academy for Ads is the new platform for procuring Google certifications, with new study material featuring a range of interactive questions, video material, the information you need to pass the assessments and new layout and design, make learning the material a much more enjoyable and easier task.
Once you have created your partner account, go to the profile tab on the left side menu. There you must complete your profile, in this ensure you have added the email address of your manager account under "company email". Once you have done this, navigate back to "Home" and select the option in the top right corner for "Google Ads" as seen below. Adding your company email address will allow you to associate your certifications with a business and count towards earning your partner's badge.

How To Pass the Assessments
Get on-the-job experience
Practical experience is essential for learning the in's and out's of Google Google Ads. We would definitely recommend managing a few Google Ads accounts before taking your assessments.
Having access to real Google Ads campaigns will allow you to see exactly how online advertising works in a businesslike manner.
Read through pre-assessment study material
Take the online study course for each assessment. You will have access to these once you create your Academy for Ads account.
The online courses are now stripped back and more design based than they previously were on the partner's account.
Once you have completed the pre-assessment study material you can then choose to take your Google Ads Fundamentals exam, as well as your extra topic of choice.
You can also find Google Study Guides here.
Don't forget the Recap material at the end of each topic.
At the end of each topic in the study material, just before you mark the topic complete, you will see a recap section with links to further content with more in-depth technical knowledge.
Avoid this at your peril, as the course material present on the Academy for Ads can be too simplistic. Once you start the assessment the questions you will receive will be far more advanced than the study material and you can't turn back once you have started.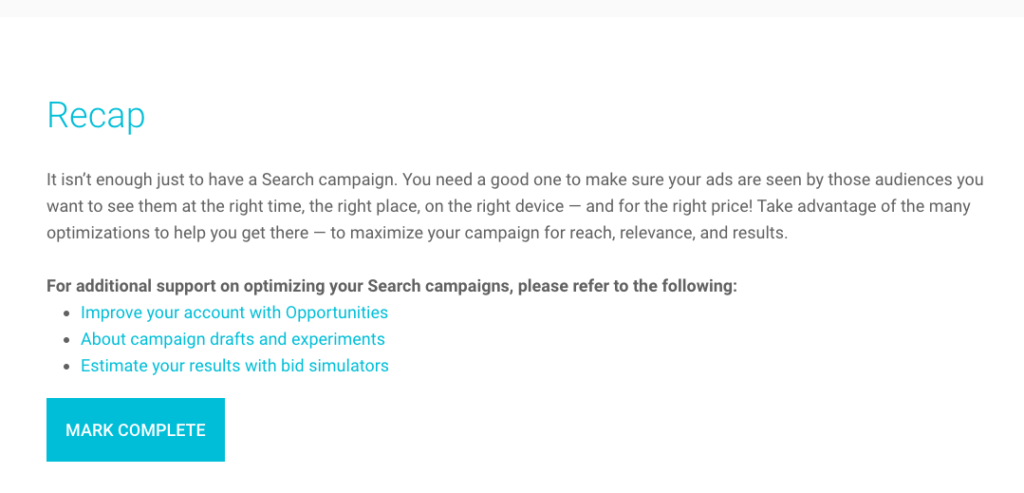 Here's an example of a few of the questions you may receive.
You are reviewing the paid and organic search report for a client who runs a Maui snorkelling tour business, and you see that their business appears only in organic search for queries such as 'boat snorkelling tour' and 'beachside snorkelling tour'. You can use this information to:
Lower the budget for all of their campaigns that contain these queries as keywords
Create two separate ad groups focused on boat and beachside snorkelling and include these queries as keywords
Increase the bids for keywords that include the terms 'boat', 'snorkeling' and 'beachside'
Increase the budget for all of their campaigns that contain these queries as keywords
Why would the data for a search network campaign show conversion but no view-through conversions?
A view-through conversion is counted when someone clicks on an ad in Google Search and converts on the site
A view-through conversion is counted when someone clicks on an image or a rich media ad on the Display Network and converts on the site
A view-through conversion is counted when someone sees an image or a rich media ad on the Display Network but doesn't click, and later converts on the site
A view-through conversion is counted when someone sees an ad in Google Search and calls the business.
Take practice Assessments
Practice Assessments can be hard to find, luckily we've found one for you here. Although there are a few misspellings and confusing wording, the tests offer really good prep as they let you know which questions you answer correctly as you go which is something you are not offered in the Academy for Ads.
Setting Up a Google Ads Manager Account
Now that you've completed your assessment you can start managing other people's and business's Google Ads account for them through one single Manager Account. You can set a Google Ads Manager Account up by following these steps.
Visit https://ads.google.com/home/tools/manager-accounts/ and click Start using manager accounts.
Enter the email address you want to use for this account.
Give your manager account a name. This is the name that your clients will see in their managed account.
Choose how you plan to use the account:

Click To manage my accounts if you'll be using this manager account to work with accounts that belong to you. For example, you'd select this option if you want to use this to manage multiple Google Ads accounts you have for different products and services.
Click To manage other people's accounts if you'll be using this manager account to work with accounts that belong to others. For example, you'd want to select this option if you'll be using this to manage your clients' accounts, not your own.

Fill in your details
Once your email is verified, your new manager account is active.
Key Areas for Exam Preparation (Fundamentals & Search)
Google Ads Metrics – Click Through Rate, Cost Per Click, Impressions, Position
Account Structure – Campaigns, Ad groups, Ads, Keywords
Language & Location Targeting
Ads – Writing Effective Text Ads.
Ad Extensions – Sitelinks, Callouts, Call, Structured Snippets etc.
Ad Rank = Quality Score x Bid. What are the components of Quality Score?
Ad Functions – (Sale Duration, Countdown)
Shopping Ads – Merchant Centre, Product Listing Ads
Custom Settings – Ad Scheduling, Ad Location, Ad Device
Website – Landing Pages, Optimising Site for Mobiles
Keywords – Match Types, Negative Keywords
Keywords Tools – Keyword Planner, Keyword Insertion, Opportunities Tab
Conversions – Conversion Tracking, View-Through Conversions, Conversion Metrics
Bidding Strategies – CPA bidding, CPC bidding, ECPC bidding, Maximise clicks etc.
Simulators (Target CPA, Bid Simulator)
'Limited By Budget' Strategies
Remarketing Campaigns
Calculations – Return On Investment Calculation, Total Profit Calculation
API – Application Programming Interface
Google Ads Manager Accounts
Search Network, Display Network, Search Network with Display Select
Reports – Auction Insights, Attribution, Google Trends Data
Editing Tools – Google Ads Editor, Bulk Edits
Good Luck!
If you need some extra Google Ads help in order to ensure you pass your certification exams, please get in touch. We offer 1-1 or small group training tailored to suit you and your business.