A local consumer review survey from 2017 found that 85% of consumers trust online reviews as much as personal recommendations, and that 49% of consumers need at least a four-star rating before they choose to use a business. So what does that mean for businesses?
Online customer reviews can make the difference between a potential client picking you or your competitors. Managing reviews and online reputation has become significantly more important. Whilst most businesses strive to offer excellent service to customers, it's often inevitable and normal that the occasional customer won't have such a positive experience. This can occasionally lead to a negative review being left online.
With more and more review platforms available to customers it's imperative that you are able to track, monitor and respond to all customer feedback, whether it's positive or negative!
Where Can Customers See Reviews?
When using Google to search, especially on mobile devices (which make up the majority of searches) often the first thing a customer will see is reviews. These are displayed in three ways; The Knowledge Panel which provides detailed information to customers about your business when searching using a named search, in the Google Local 3 Pack which is displayed to customers performing an unnamed search for services in an area, or on one of many other websites that offer the opportunity to review businesses. Below I have given an example for each of the different places reviews can appear.
The first example you will see (below) is the Google Knowledge Panel. When you search for a business on Google you may see information about that business in a box. This box will display on the top right whilst using a desktop or laptop computer. When searching on a mobile device this will appear at the top of the search results, although, it may be under Google Ads results.  The Knowledge Panel may also give "Reviews From the Web" where it will display reviews from other places that you have your business listing, such as Facebook.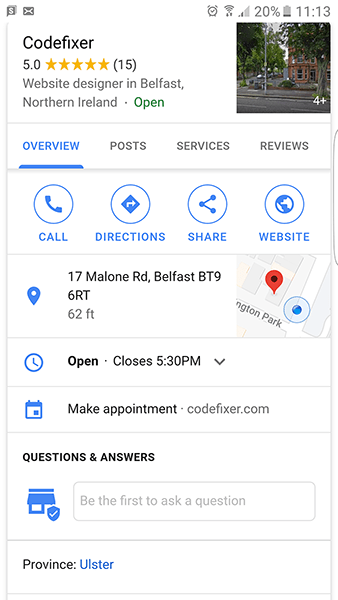 The second place your business may appear is the Google Local 3 Pack. This is usually presented when you search for a local business service in an area. In the example (below) you can see the search results for "Pizza Near Me". This displays 3 local businesses who Google believe match the description of the service that you're searching for. This will show the business name, location, star rating, number of reviews, distance & key business highlights. The Google 3 Pack is also incredibly powerful as it allows customers to request directions or call your business when searching from a mobile device. Above the businesses, on the map, Google will show have a series of red dots, these represent the locations of different businesses that match the description of your search query, with a blue dot which represents where you currently are on this map.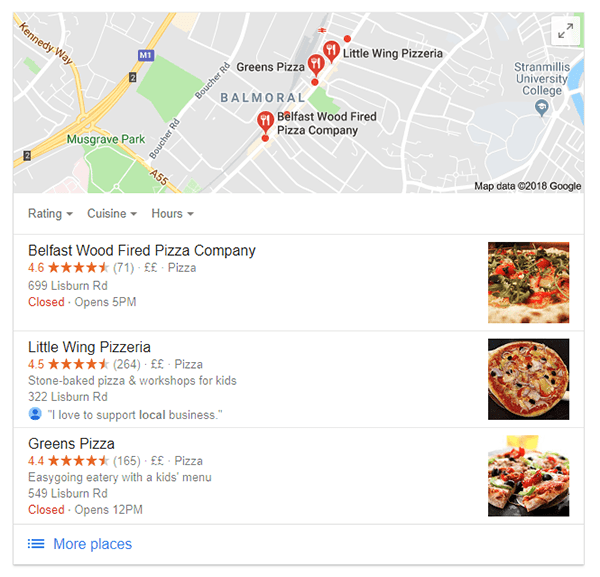 The third place which you may appear to customers searching on Google is third party websites. This can include many websites which help customers find and review businesses online. In the section below we go in to further detail about the websites where you should claim a business listing and encourage customers to leave reviews. It is also possible to have the star reviews under your website when appearing in search results using schema markup. In the example below, we can see the Codefixer Facebook Page, this appears high up in the search results when searching for Codefixer, it is therefore extremely important to not only claim the business Facebook page but to also encourage customers to leave us reviews!

So what are the benefits of online reviews?
Whilst encouraging customers to leave reviews online can sometimes be tedious, it's also completely free! Reviews are the modern day word of mouth referrals, although with a global reach! Online reviews are a fantastic way of receiving and delivering feedback to and from customers, they're highly engaging and can highlight certain aspects of your business which could do with improvement. Reviews can also help your business rank higher inside the Google Local 3 Pack.
Well, what are the risks associated with negative online reviews?
The foremost risk of online reviews is not realising that they are there! Are you aware of everywhere your business is listed online where customers are reviewing you? There's; Google My Business, Tripadvisor, Facebook, Yelp, Yell, Trustpilot, Glassdoor, Just Eat, Twitter, Foursquare, Which?, Choice and many more popping up every year! Companies should try to claim as many business listings across the top review sites as possible and make sure you're set up to receive notifications of any reviews, once you get reviews you must make sure you reply to them as soon as possible. Understanding exactly where your customers are searching and what other customers are saying on these platforms is fundamental to the success of your business online. Bigger businesses may have the resources to adopt fancy social listening software such as Brandwatch, but many smaller businesses are restricted by finances and resources. For these businesses there are also some fantastic free resources to monitor your online reputation, choosing one will often depend on the kind of business that you run and your location. Google Alerts is one useful tool that is completely free and allows you to receive emails whenever someone mentions your brand online.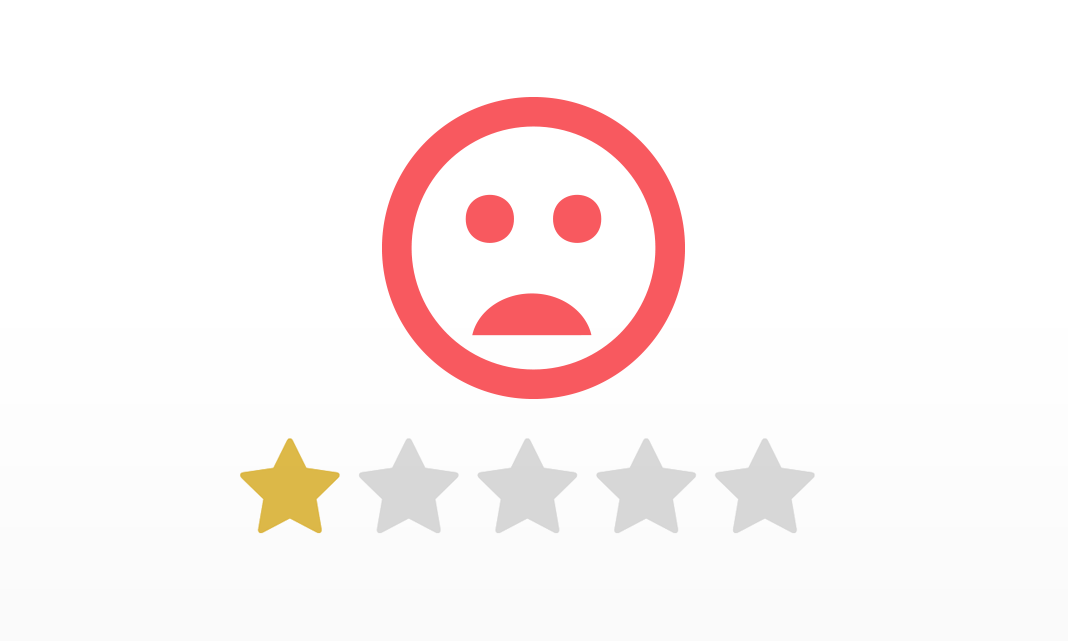 I've got a negative review, what can I do?
Encourage happy customers to leave you a review online, not only will this provide other potential customers with more reasons to buy from you, but it will also negate the damage caused by a low scoring review. A negative review when you have many more positive reviews is far less damaging than when having a lower number of reviews. One way you can encourage customers to leave you a review is by finding your business "Place ID" on Google maps by using the Google Place ID Finder Tool. Once you have your Google Place ID you can add it to end of "https://search.google.com/local/writereview?placeid=" and use it as part of a template to email or text message to customers. The end result should look something like this; "Leave A Review". This example, when clicked, will bring you straight to the review box to leave a review for Codefixer on Google My Business.

Respond to your reviews – You should treat negative reviews as customer complaints and respond to them in a timely fashion, ideally as soon as possible. The reason for this is the longer you allow a negative review to remain online without a response, the more likely other customers are going to see that review which could potentially cost you paying customers and the less likely you'll be able to come to a mutually agreeable conclusion with the complainant.

Offer to resolve the complaint – Always offer to fix the problem that caused the negative review in the first place, this will help other customers understand that this was out of the ordinary and not to be expected in their experience if they decide to choose you. This may cost you slightly in the short term in the case of replacing a damaged item or offering a meal on the house, but this could, in turn, change a disappointed 1 off customer to a lifelong paying customer. It is not unusual for customers to go back and change their review based on excellent customer service.

Be polite – There are plenty of examples of businesses who don't like to consider that they've let a customer down and are reluctant to admit fault and apologise. Do not try to haggle your way out of wrongdoing, sometimes all a customer needs is an apology and an understanding that this isn't normal practice and the issue is being investigated.

Proactively contact the customer – Often customers will not see that you have responded to their review. Use the reply button not necessarily as a way of contacting the customer, rather, use it as a high reaching means to tell other customers that you strive to deliver excellent service and that the experience the complainant has had is out of the ordinary and won't happen again! Follow up after responding to the review by contacting the customer if possible. Sometimes just speaking to a person on the other end of a phone is all they need.
But the review was spam/fake!
In the case of fake or spam customer reviews, there are a number of steps you can take to ensure that the review is dealt with correctly. The "report" feature will change depending on the website where the review has been submitted to, although most websites will allow you to submit it for a manual review.
If the review has been left on Google My Business you can follow the next set of steps to have your review flagged and reviewed.
Despite the review being fake, you must still respond to it. Responding will make it clear to customers and potential customers that you are aware of the review, you take what reviewers say seriously and as a business, you are dedicated to resolving situations "like this".
Flag the review to Google. This can be done by clicking the flag on the review (see below). 
Once you have flagged the review as inappropriate you will be asked to report a policy violation – insert your business email address and select the option of the rule you believe the review breaks. Once you have done this you must select submit.
Once you have flagged the review and submitted your report you will only hear back from Google if they require extra information regarding the case or would like to inform you of information, it is worth checking intermittently to see if the review has been removed as Google will not always contact you to inform you of a decision.
Need help with your digital marketing, or need a 1 to 1 lesson to get the grasp of thing? We have 100% 5* feedback from our customers! Get in touch!