Are you ready for voice search SEO in 2017
What is voice search?
Voice search allows search engines such as Google to process what you say into your device's microphone and translate your vocals into a text based search query.
Siri (Apple) and Cortana (Windows) are virtual assistant apps that introduced us to voice search but it never took off straight away due to flaws with mistaking what people were saying as well as inconvenience compared to tapping a search into your phone.
Back in May 2016, Google announced that around 20% of their mobile search queries were voice searches. This is expected to grow rapidly in 2017.
With a lot of people getting a Google Home or Amazon Echo for Christmas in 2016, voice search queries will become more and more prominent in everyday life. This means your business needs to prepare their website in order to cater for this.
Putting voice search in Belfast to the test
According to a KPCB Internet Trends report for 2016, online voice search accuracy with Google was recorded at 92%. This could be exactly that or more in California and London but there are a huge ranges of accents in English speaking countries throughout the world for voice search to recognise – including 'Norn Iron'.
We ran a few voice search queries using Google to see how it performed.
The one stereotypical term that comes up a lot for Belfast people is 'power shower' so we asked Google Search 'where can I find a power shower in Belfast?'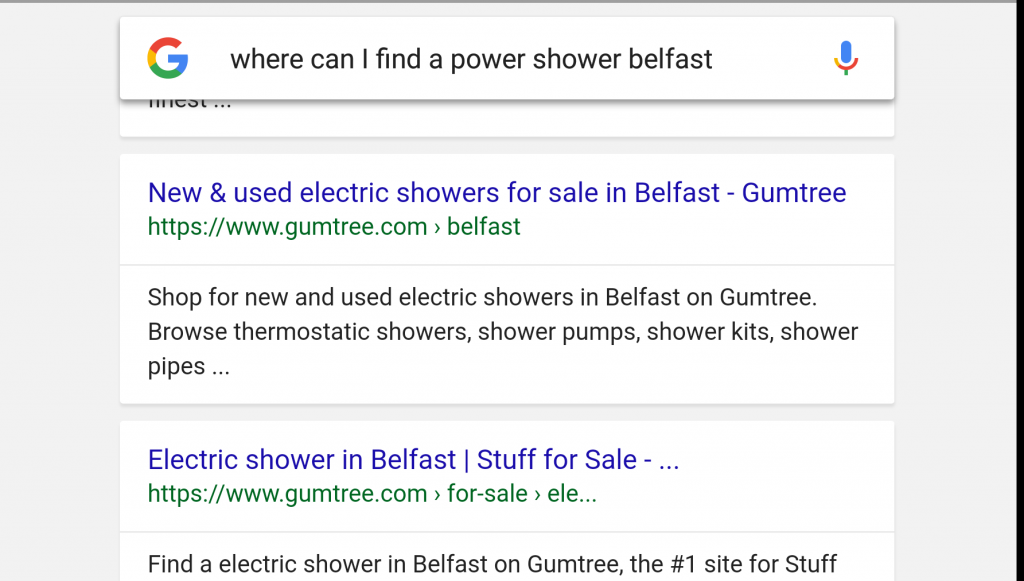 Not only did it get the wording pretty much correct (missed out "in") but the resuls were relevant to the product and location of the query. Electric shower is not the exact same search term we used but it shows that the intent of the search has been detected. So far so good.
The next voice query was 'codefixer Belfast'.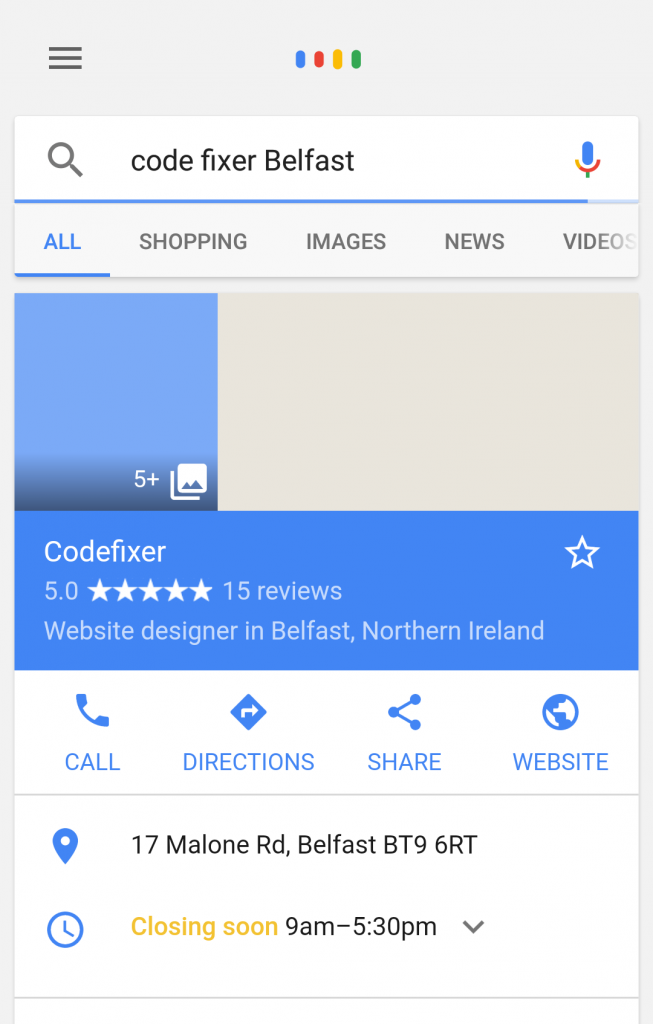 Other than picking up our business name as 2 words in the search bar, the top result was spot on, finding our Google My Business listing – convenient on mobile if you want to get directions to our office.
Speaking of directions, we ran a few voice search queries from Belfast to other locations across the country.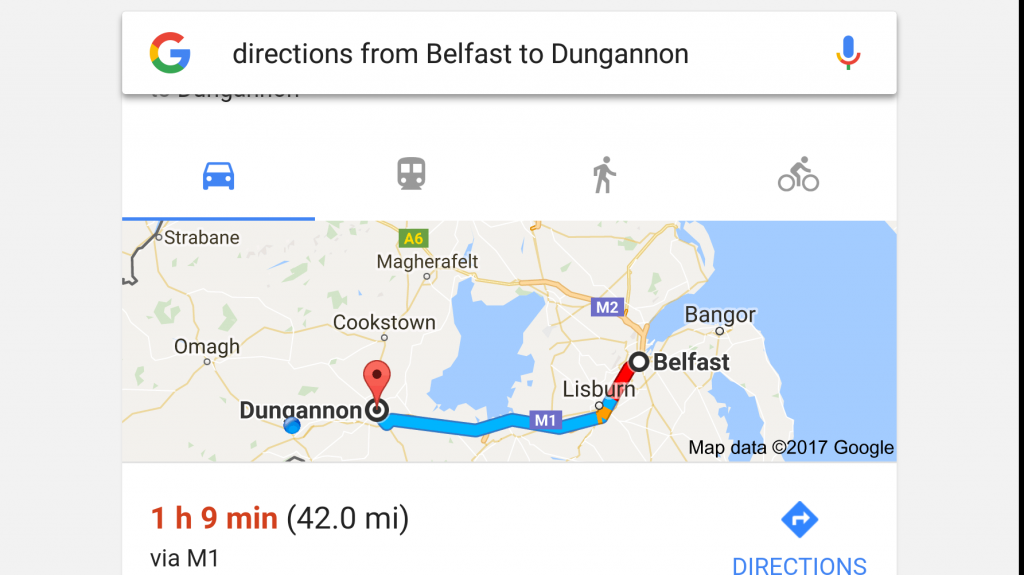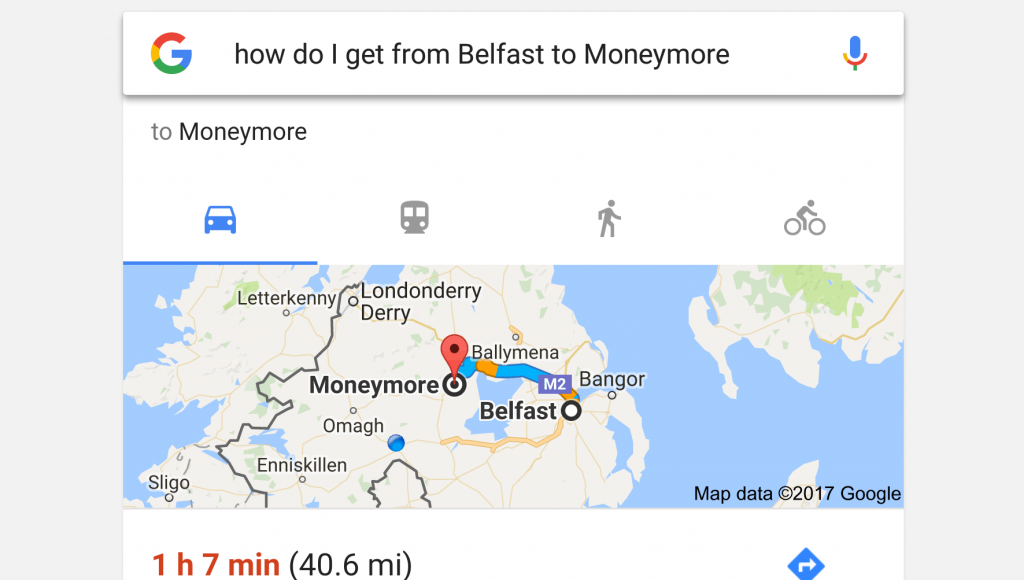 Some of them were straightforward and worked well as you can see here from Belfast to Dungannon and Moneymore respectively, speaking as you would to someone with you or on the phone.
Others…were a bit less straightforward.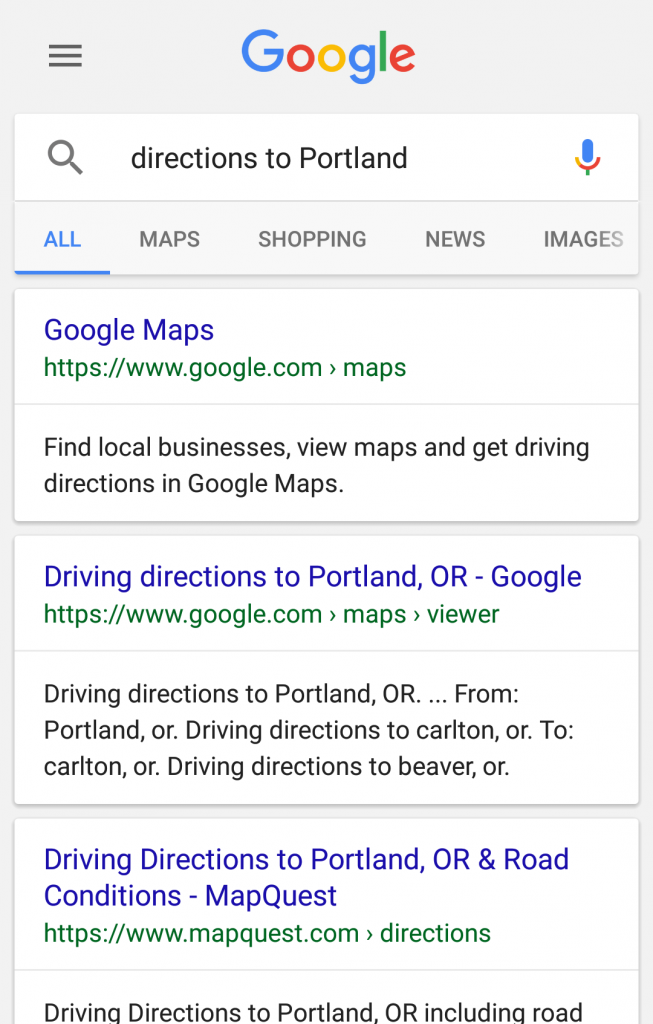 Asking for 'directions to Portglenone' will bring you 'directions to Portland' results. However, we then tried 'directions from Belfast to Portglenone' and it was correct.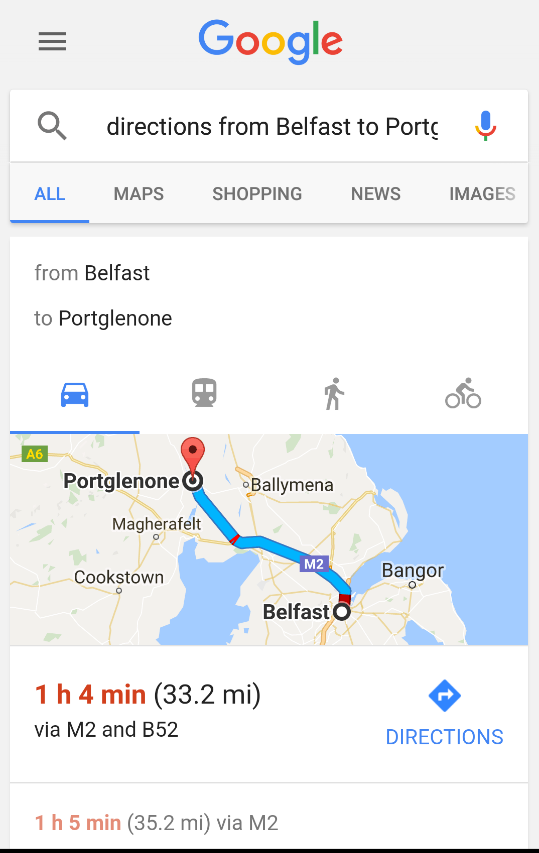 Our pronunciation or speed of talking didn't change in either search, though by association to Belfast, the search recognised Portglenone. This looks promising for how accurate voice search is and how local SEO is still very important in your own SEO strategy.
How do I apply SEO to my website for voice search?
The good news is that you won't need to make a drastic overhaul of your website to be ready for the rise of voice search.
Content marketing strategy applies in terms of proper keyword research and answering common questions from your customers as the subject of blog posts will work. Offsite SEO such as directories and inbound links will still influence how you perform in SEO for voice search.
Subtle changes are all it will really take to ensure you are prepared well for voice search SEO. Long tail keywords are already a key feature of SEO and voice queries will take a longer form than what people would type in.
A more conversational tone in your website content will lend itself well to voice search queries in that they are more conversational than a typed search query – though do your best to remain professional and don't go too colloquial.
Having an FAQ page with multiple questions and answers is likely to increase in traffic and SEO ranking from voice search queries so if you don't already have one, it's worth considering.
One more thing to remember is to ensure you business listings on Google My Business and other online directories are up to date with your current name, address and phone number.
Thanks for reading! If you have any questions please don't hesitate to get in touch with us on how we can help you get ready for voice search as part of your digital marketing strategy.