Did you know that according to Google, 60% of people that do a local search end up visiting that business in the next week and buying a product/service? If you are a small business, are you making the most of Local SEO? Read these top tips for help.
Set up, verify your Google My Business listing. Optimise this listing with reviews, posts, photos of the business both interior and exterior and the team, create a virtual tour if possible and suitable, add opening hours & special opening hours such as Xmas holidays.
Get listed in some of the main business directories, ones that you see appearing in the SERPS (Search Engine Ranking Positions) such as Yelp, FreeIndex, Cyclex. Also Bing Places & Facebook. Make sure the NAP (Name Address & Phone) is consistent and write comprehensive listings.
Write good Page Titles, include keywords and a hook to try and improve the CTR. If you've experienced writing Google AdWord Ads, try and write your titles like ads for all the important landing pages.
Use a tool such as SEO Mofo Snippet Optimizer to preview your Page Titles & Meta Descriptions.
Add regional terms to your page titles, particularly your home page and service pages.
Use structured data markup so that Google & Search engines can identify what your content is about, whether that's reviews, the address or events. This can significantly improve your organic rankings and make them stand out. See the screenshot below where there's additional information displayed for reviews and events.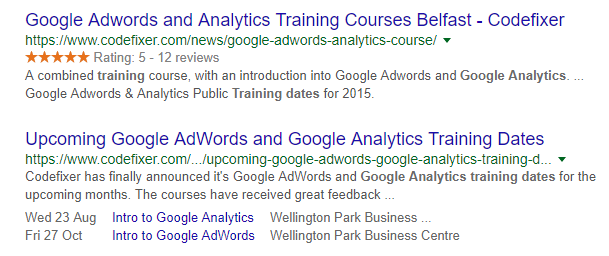 Make sure your website is mobile friendly, there still are sites out there that aren't and the engagement levels and conversion stats are poorer. Be aware that Google is intending to use your mobile site as the site it reviews for ranking purposes.
Get your site ready for voice search and conversational searches, with mobile increasingly becoming the dominant device, voice search is only going to increase.
Use Google Ads to mine for keywords, test ads quickly to use for meta descriptions and find out information on local markets. SEO and PPC complement each other very well.
Use Google Ads to justify whether your SEO is worth the investment. Is there a market for the keywords you are thinking of targeting in SEO. Find out quickly with Google Ads, there's no point spending months on an SEO campaign only to get to the top and realise that there's no real traffic for those keywords, or that they don't convert.
Invest in your website, and continually improve the content on the main landing and services pages.
Build strong relationships with local businesses, this will result in a number of backlinks and benefit your SEO rankings.