Back in June 2013, Google released a blog entitled "New Image Extensions Enable You to "Show" and "Tell" with Search Ads" on the now-defunct "Inside AdWords" Blog. This blog confirmed that Google was running a Beta, however, this was soon sunsetted and there was little else mentioned about Image Extensions for several years.
In December 2019 there was a WordStream Blog suggesting Google was now rolling out new image extensions to a select group of advertisers.
In July 2020 Google then released a blog entitled "Decoding decisions to grow online sales". In this blog, Google announced that they were launching an image extensions beta program, which ran until May 2021 when image extensions were extended globally to eligible accounts across the platform. This was rolled out in parallel with Dynamic Image Extensions.
In the image below we can see how image extensions were originally supposed to look back in 2013!

What Are Image Extensions?
Image extensions allow advertisers to display a landscape (1.9:1) or square image (1:1) alongside their search ads for users searching on mobile devices. 
The introduction of image extensions allows us to further enrich and enhance our search ads, helping us to provide more information to the user, as well as helping our ads stand out from the competition. 
These new image extensions can be added at either campaign or ad group level, and each ad group or campaign can have 20 individual image extensions each. 
There are now two types of image extensions; Standard Image Extensions, and Dynamic Image Extensions.  
What's The Difference Between Image Extensions & Dynamic Image Extensions?
Standard Image Extensions are simply added at the ad group or campaign level on your search campaigns. These image extensions are generated using assets that have been manually added to the Google Ads account and can be either a square image of 1:1 aspect ratio or a landscape rectangular image with dimensions of 1.9:1. Whilst adding our image extensions there is also a function available enabling us to crop our images if they are not of suitable dimensions. There are other requirements to ensure your extensions aren't disapproved, we will go into this in more detail further down this blog.
Dynamic Image Extensions are generated from images that are currently available on existing landing pages from the website your ads are pointing towards. To enable Dynamic Image Extensions Google requires that you sign a box acknowledging the following content disclaimer; 
"I confirm that I own all legal rights to the images on the landing pages used by this account (or I have permission to share the images with Google). I hereby instruct Google to publish these images on my behalf for advertising or other commercial purposes."
Simply put, once you have found the rather difficult to find setting to enable Dynamic Image Extensions and accepted the conditions, Google will begin presenting images available on your landing pages alongside your ads. 
As always, with any Dynamic vs Standard features within Google Ads, the main benefit of the former vs the latter is that we can have much better control over which content we are displaying to users seeing our ads in the SERPs. 
At Codefixer, we have found it particularly useful to segment the image extensions as much as possible. Results tend to be best when the image most closely reflects the ad, landing page, and keyword that they appear alongside. For example, if you have a campaign for "Mens' Footwear", and an ad group each for; "Mens' Work Boots", "Mens' Adidas Trainers", "Mens' Wellington Boots", and "Mens' Slippers" it's best to find images that match the ad groups, rather than finding one image for "Mens' Footwear". Pretty straightforward stuff, but I thought that would be worth highlighting. 
How Do Image Extensions Work?
Image extensions can display alongside your search ads to users searching on mobile devices. We haven't yet been able to confirm any instances of image extensions showing up on either desktop devices or tablets. We will continue to monitor and update this in due course if we have evidence that these extensions are also appearing on desktop computers or tablets. 
Image extensions seem to appear only when your ads are showing on the top of the page, however, they are not limited to appearing on ads in position #1. You may wish to consider a target impression share bidding strategy to get these extensions to show as often as possible. 
In the image below we can see an example of how these image extensions appear to users in Belfast searching for "PPC Belfast". In this example, the user (me) was searching from a mobile device (simulated iPhone X), and in this instance, our ad appeared in position #1.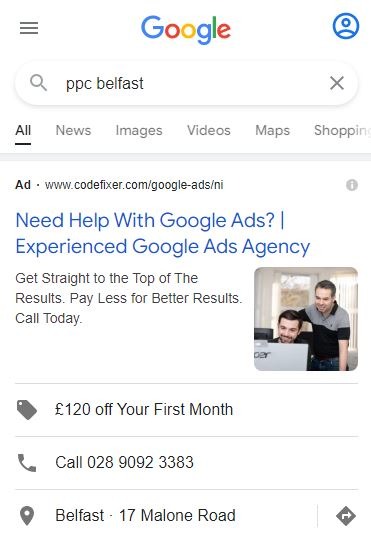 What Are The Image Extensions Requirements?
For your image extensions to be consistently approved you must meet a few simple criteria to ensure the images are of high enough quality and meet the image extension requirements put forward by Google. 
First, there can be no promotional text or graphic overlay on your images. This includes having your brand logo appearing on your image. Google will also disapprove your logo if you are attempting to use this as an image extension on its own – Google appears to be extremely strict on this policy. If you submit an image with text or graphic overlay this will likely be immediately disapproved. There is currently no way to submit the image extension for automatic or manual review, so once it is disapproved it will remain that way. 
Google will also disapprove any image extensions submitted that have too much blank space on the image. This will also cause a disapproved image extension where the focus of the image is such that the product or service cannot be easily recognised. 
Images that consist of collages or images which are combined will also be disapproved. Google suggests that images containing "naturally occurring" collages such as scrapbooks, catalogues, etc, are all acceptable images, but any image collage that has been created in post-product will be disapproved. 
Image extensions can also be disapproved for some reasons relating to poor image quality. These include blurry images that make the subject unrecognisable or difficult to identify. Likewise, images that are visually warped or skewed are not appropriate for image extensions. Images that are poorly cropped will also be likely disapproved. All of these reasons relate to poor picture quality, as such, ensure you have the highest quality images possible when creating your image extensions. 
Prohibited content rules are also applied to image extensions, so ensure that images used do not contain nudity or sexually suggestive images. This rule sounds like it could be rather subjective, so it's better to err on the side of caution and ensure all of your images are appropriate for all ages. 
Do Image Extensions Improve Campaign Performance?
We have now been running our image extensions for a couple of weeks, and already have discovered some interesting results during this short experiment. 
Across the 8 accounts that we used for testing image extensions, our clickthrough rate improved by having images extensions on all but 1 account, however, this account (#8) was also the one with the least impressions, clicks, and conversions on the image extensions throughout the testing period, therefore the integrity of this account data is less complete than on the other accounts and would benefit from continuous testing.
Accounts with the most impressions, clicks and conversions during our experiment (#3, #4, and #6) all appear to have a considerably higher clickthrough rate on our ads with image extensions, compared to the overall account average. 
 The average clickthrough rate on the ads with image extensions was 14.73%, whilst the average clickthrough rate on ads without image extensions was 9.61%. This represents a 53.28% increase in the clickthrough rate from just having image extensions on the ads. Whilst I'm eager to continue to test this further, it's a promising result.
Improvements to the conversion rate on these accounts are less pronounced than that of the clickthrough rates. On 3 of the 8 accounts, our conversion rate decreased when comparing ads with image extensions with the overall account average. 
Our conversion rate did, however, improve on 5 of the 8 accounts we tested, with some of them showing considerable improvements. 
Our average conversion rate across all accounts was 10.27%, whilst our overall average conversion rate for ads with image extensions was 12.07%. This represents a 17.53% increase to our average conversion rate across our 8 test accounts, which is a considerable improvement.
Following a short, and not particularly scientific test with these 8 accounts, we can see that the data supports the hypothesis that overall, including image extensions on Google Ads appears to have a positive effect on, both, the clickthrough rate and conversion rate of our ads. 
With Image Extensions
All Search Campaign Average
CTR (%)
Conversion Rate (%)
CTR (%)
Conversion Rate (%)

#1

24.90%

5.00%

14.69%

10.37%

#2

16.54%

4.44%

10.44%

7.37%

#3

6.54%

8.11%

4.93%

3.79%

#4

13.05%

8.09%

9.27%

4.18%

#5

15.72%

16.00%

9.89%

17.43%

#6

22.65%

8.05%

14.21%

6.78%

#7

14.95%

21.88%

8.59%

16.89%

#8

3.45%

25.00%

4.86%

15.38%

Avg:

14.73%

12.07%

9.61%

10.27%
Google Ads Account Eligibility Requirements For Image Extensions.
If you haven't received access to image extensions yet on your Google Ads account, you may just need to remain patient and these should be made available on the account in due course. As of the date of writing this blog (15/6/21) we have still only received access on about half of our accounts, of which, most have only been available since the beginning of June, with only a small number of accounts given access in May. 
Google has, however, also provided us with account eligibility requirements for image extensions. 
Account has been open for more than 90 days.

Account has a good history of policy compliance.

Account is in an eligible vertical or sub-vertical. Sensitive verticals or sub-verticals (for example, sexual content, alcohol, gambling) aren't eligible for image extensions.