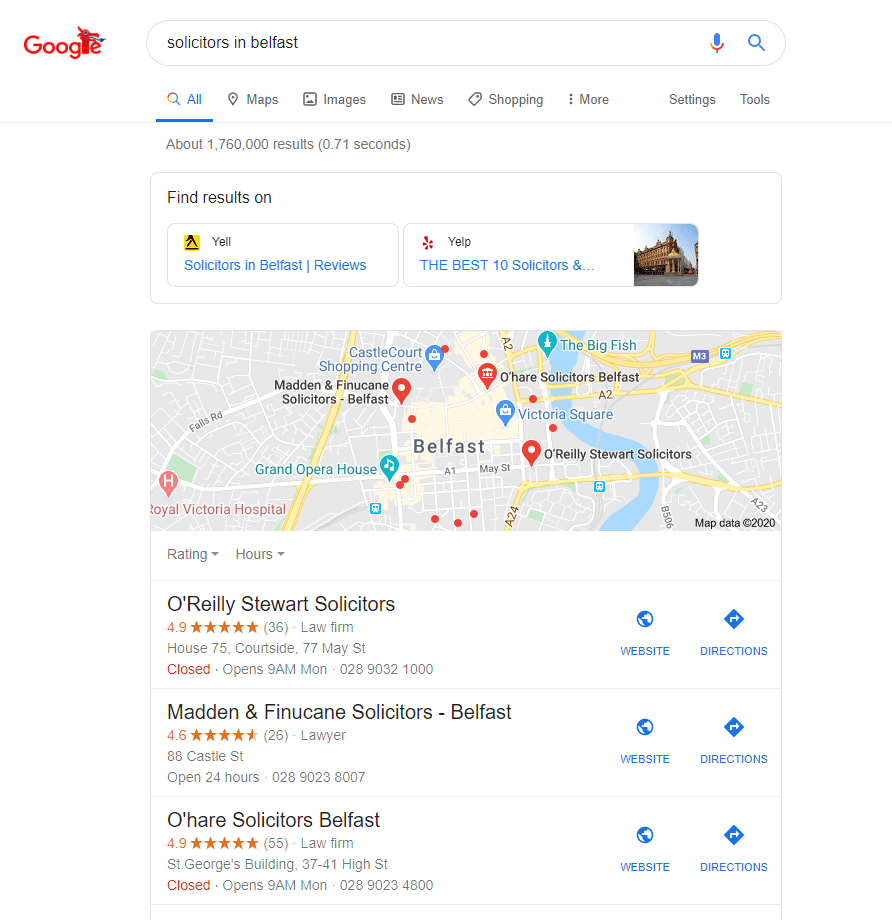 In April 2019 Google started testing the new "Find Results On" feature in some countries in Europe, however, this wasn't extended to the UK, as such, people didn't pay all that much attention bar a single Search Engine Land article based on results in Germany.
In February we started to notice an extra feature to the Google My Business results in the search results in the UK. This new feature has started showing directory results under "Find Results On" above the Map Pack.
This new "Find Results On" feature is interesting for a couple of reasons. The first one being, why is Google attempting to send users to websites generally considered as competitors, especially with the prominence of Google My Business results, and secondly, hasn't Google in recent years been proactively removing directory type sites from the search results by introducing features such as Google Jobs, and putting more rich snippets in the search results?
Strangely it all appears to stem back to the $2.7bn EU Antitrust Fine for consistently pushing competitors out by placing it's own comparison shopping services in prominent positions in the search results. As such, Google has introduced measures to ensure competitors receive at least some visibility in the search results.
When this issue first surfaced in April 2019 in this Search Engine Journal Article there was an image from an eye-tracking study on the search engine results page including the "Find Results On" feature conducted by Yelp. Unfortunately, I can not confirm the original source of the image to correctly credit the original creator.
What this image showed is how users see the search engine results ultimately hasn't changed based on the inclusion of "Find Results On" with the majority of focus being on the top map results.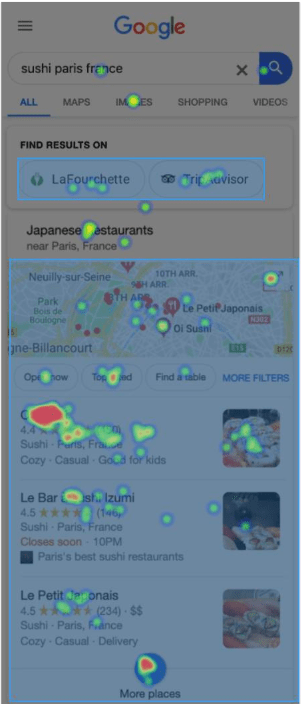 Google was fined again in July 2018, this time for a whopping $4.8bn for, you guessed it, abusing its market position. This led to Google allowing rival search engines as the default Android search engine. We believe that the new Google Update is likely a direct result of a slew of legal cases brought forward by the EU.
What Does This Mean For Local SEO?
Listing yourself on high quality, relevant directories with high traffic such as Yell & Yelp and building citations should receive some attention going forward in your Local SEO strategy. There's a few reasons outside of the "Find Results On" update for this.
Building citations on relevant directories with consistent NAP (Name, Address & Phone Number) is an important aspect of local SEO, especially when it comes to Google My Business listings. Citations in SEO refer to places on the internet that have mentions of your Name, Address & Phone Number and are a considerable factor when Google is deciding to show which results to show in local results on the Map listings, these don't always mean Directories and can refer to other types of business listings such as social media, directories & map listings.
Google will crawl citations from other websites for more information on your business. The main factor it looks for is consistency. If you have listings with Yell or Yelp, etc. make sure that your address and other details are 100% consistent across the board. The effect of this is that your Google My Business listing should appear for relevant searches more often due to the increased trust in your business. This does not, however, mean finding a list of 100's of directories and adding yourself to each and every one of them. Try creating a smaller list which currently appears in the search results for your chosen query and start from there. The following list should get you started for building your citations.
www.yell.com
www.yelp.co.uk
www.foursquare.com
www.facebook.com
www.bingplaces.com
www.192.com
Whilst it's highly unlikely your directory listing is going to become your main lead-generation source, it's certainly worth not skipping over. This leads to the next point. With the directories appearing in the search results above the map, it's likely that they will begin to see more traffic from search results from users who are searching specifically for services that you provide.
It's worth noting that often when you register your business on one of these websites you may receive sales calls from people asking you to upgrade your listing to a paid one. Use your due diligence, do not part with your hard-earned cash without sufficient research and don't sign contracts based on short telephone conversions with a stranger.
Do you need help with your Google Ads or Search Engine Optimisation? We are a Google Partner and provide both management, and training for groups and individuals. Don't hesitate to contact us to discuss your project.