Picture this, a user visits your e-commerce website on their computer during their lunch break at work, lunch finishes and they leave your website. Later on the same day, the same customer revisits your website from their mobile phone on the train home from work, again, they don't make a purchase, leave the website and complete their journey home. When at home later that evening, they visit your website once again, this time making a successful transaction. Previously on Google Analytics, although it was possible to track this traffic across devices, it was time-consuming, costly, and sometimes inaccurate. Google Signals is the answer we have (hopefully) been waiting for to solve this problem.
What is Google Signals?
Google Signals is a new Google product, first announced in July 2018, which enhances some of the features we are used to across Google's product range as well as introducing a number of new features. When Google Signals is activated on a Google Analytics account features are upgraded to include more information on users who have Ads Personalization enabled. Ads Personalization is a setting within your Google account which allows Google & advertisers to show ads which are more tailored to your interests based on your browsing behaviours. This provides advertisers with a better understanding of how users interact with your business on, and offline. 
Remarketing With Google Analytics
With Google Signals activated, audiences that are created in Google Analytics and published to Google Ads can serve ads in Cross Device-eligible remarketing campaigns for users.
Advertising Reporting Features
Google Analytics collects additional information about users. This includes being able to track Store Visits as a local action on Google Analytics & Google Ads on eligible accounts. Having enabled Google Signals we are now able to see Lifetime Value of customers, Cohort Analysis, Cross-device Reporting & Sitelink Statistics within Google Analytics.
Demographics & Interest Reports
More data will be collected on users, providing us with more insights on who our customers are. This will allow advertisers to better understand our customers, and help shape our marketing efforts to provide more value to clients, advertisers, and ultimately customers. 
Cross-Device Reports
Cross-device reporting will allow us to understand how users behave with an online property across multiple browsers and devices. This will help advertisers tailor experiences to customers depending on what device they're using. This data will all be aggregated providing no specific information on individual users meaning this will have no foreseeable impact on GDPR compliance. 
How Can Google Signals Help Advertisers?
In short, Google Signals will now allow us to be able to see a more holistic view of how our users interact with our advertising, and how they behave online depending on how they are viewing your content. We can view device overlap, paths, channels & acquisition devices. Whilst this doesn't seem like the miracle we were hoping for, it allows us to tie together different sessions to users, despite them not visiting from the same browser or device each time. This is huge in an era where fewer people simply complete a search on Google on their desktop computer and get on about their day. This should, in practice, allow us to have a richer understanding of how an individual user interacts differently depending on how they are viewing your content, and this should allow us to react to this by offering richer advertising experiences which are more tailored to the user.
We should see the biggest changes with the demographic and interest reporting. Google in the past been rather poor, in my opinion, in providing accuracy in demographic and interest reporting. These types of reporting have been largely based on the behaviour of a user whilst on one device in one particular environment. As stated above, this largely doesn't reflect the buyers' journey in 2019, and data is ringfenced to single devices. This means now, when I'm on my desktop computer, in the office, on this internet connection, I get targeted mainly with marketing ads. However, when I'm at home procrastinating watching hours of car and fishing videos I get targeted with content more relevant to those interests. Despite my browsing behaviour differing between these two environments, I'm no less interested in fishing & cars and no less likely to be swayed by a well made, relevant advert pertaining to digital marketing. 
So basically, the difference is data. 
Now, something I am most interested in is the store visits report. This is HUGE. Here, at Codefixer, we have a number of clients with an online store, and a physical store. This is hardly groundbreaking news, however, what is groundbreaking is that it has been extremely difficult in the past to be able to gauge the success of a campaign outside of the matrix (with a slight exception to the ask for directions local conversion action). 
With the new store visits report, we can determine if a customer has been on a clients website through an ad, then arrived at the Google My Business location. Outside of just retail premises, this will help with businesses that work on appointments, such as solicitors and dentists, and even things like hospitality & leisure businesses. The store visits report allows us to measure conversions for clients who really don't need the user to do anything measurable online to become a customer. If you Google "swimming pool near me", you don't need to chat to anyone, complete a contact form, click on a particular link, make a phone call, or download a PDF. You just need to know the basics; who are you, what do you do, and how much does it cost. The client can just turn up and go about their day. This removes a barrier for both, users, and advertisers. 
How To Enable Google Signals?
We're glad you asked!
Setting up Google Signals really is a doddle and doesn't take more than about 30 seconds of your time, and 0 technical know-how. However, that technical know-how will come in handy when reading the results and using the data to improve your advertising.
Step 1 –

Visit the Google Analytics property you are hoping to set up Google Signals on. Click on the Admin Cog in the bottom left, and navigate to "Tracking Info". Expand the "Tracking Info" dropdown, uncovering the "Data Collection" option. Once you've arrived on the data collection page, you should see a blue banner across the top of the window. Simply, click on "Get Started".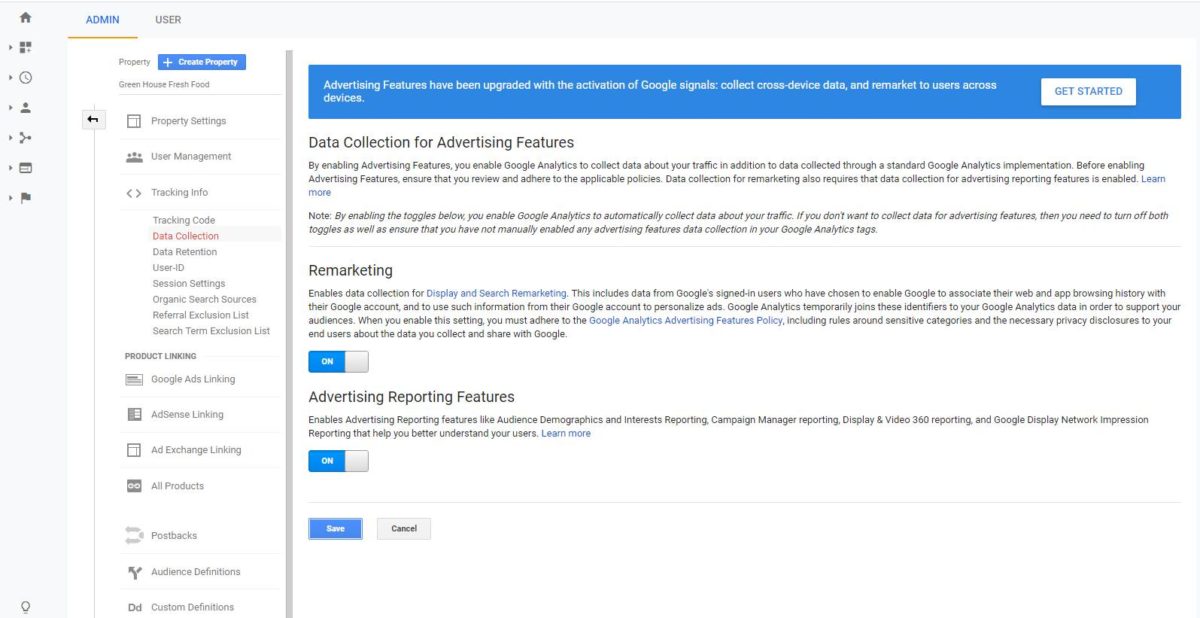 Step 2 –

Just click continue. No magic involved.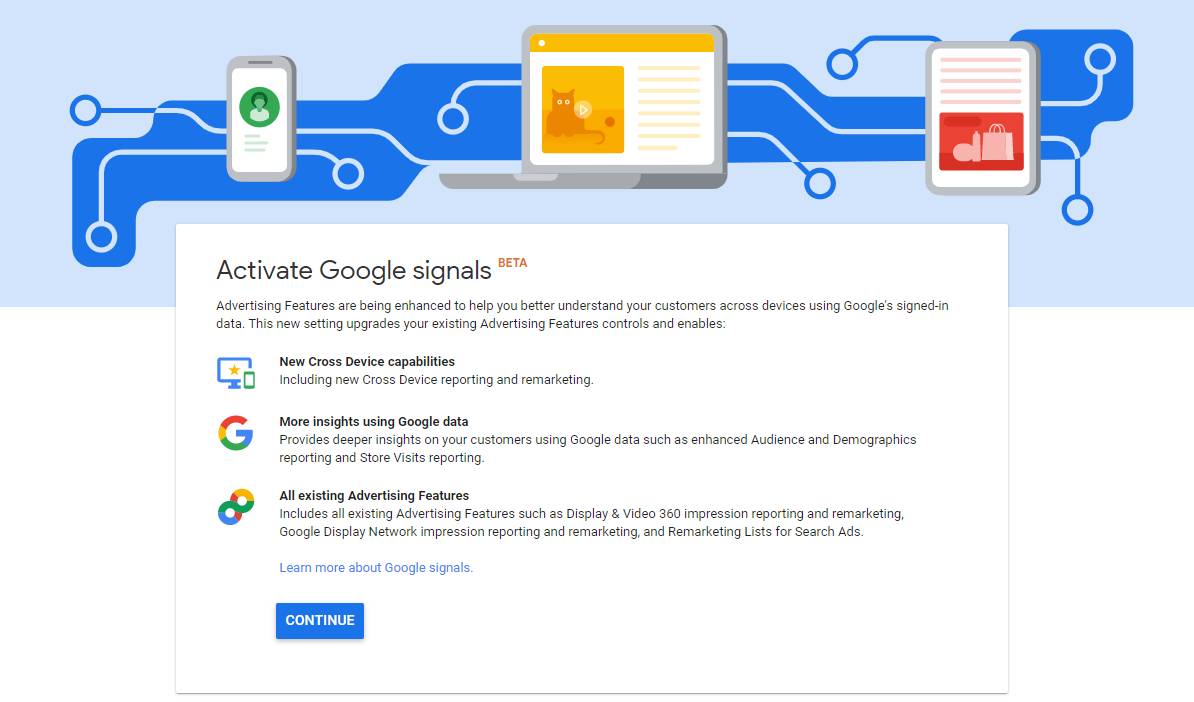 Step 3 – 

Where it says "Activate For", select the properties in the Google Analytics account you would like Google Signals activated for. If you do not have the correct data sharing settings enabled you will be prompted to activate them in this step.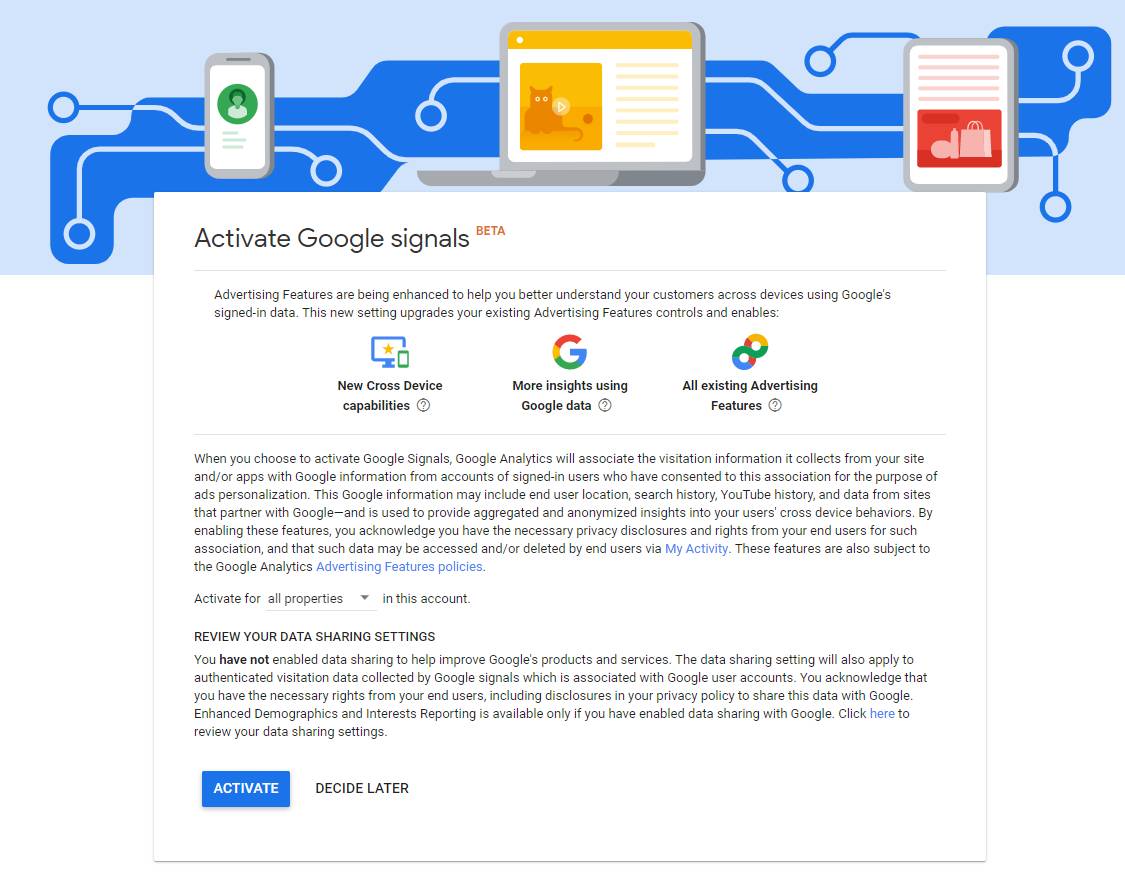 Step 4 –

Simply click "Done", feel free to read the guide provided by Google on getting you started with Google Signals.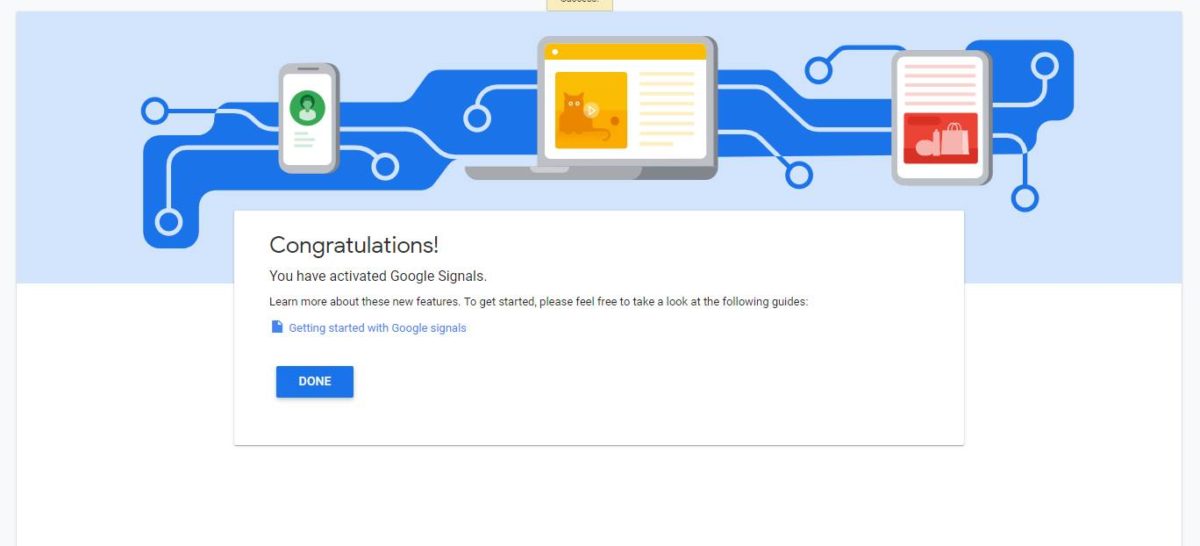 Step 5 –

Ensure "Data Collection for Google Signals" is set to on, and click "Save". It's that simple. Google Signals will now take approximately 90 days to populate the correct reports to allow you to start supercharging your Google Analytics!
How did you find this? Interesting? There's plenty more where that came from! Check out our other blogs!