The festive season is quickly approaching, with Black Friday, followed by Cyber Monday, Christmas & New Years. Festive consumers will be looking for the best available options to meet the growing demand for gifts and bargains. This provides us with an excellent opportunity to show off the best we've got, and one tool that is free and readily available for all businesses to leverage is Google My Business.
If you're not using Google My Business, or new to using it, read our previous article on 10 Tips To Improve Your Google My Business Listing. Once you've claimed, or spruced your account up, read on!
Depending on your business category on Google My Business you will have access to different features. Ensure that your business category matches your business as closely as possible.
How To Use Google My Business for Black Friday & Cyber Monday
Google My Business Posts
On your Google My Business Dashboard, you'll see a tab for Posts. In here (dependant on category) we can add products, updates, events & offers. If you're a hotel/accommodation provider you, unfortunately, will not be able to use the Posts feature in Google My Business. Posts on Google My Business are a powerful way of communicating with your users directly from the Search Engine Results Page (SERP). Each type of post on Google My Business has different features, allowing you to tailor the customer experience depending on what the intended outcome is.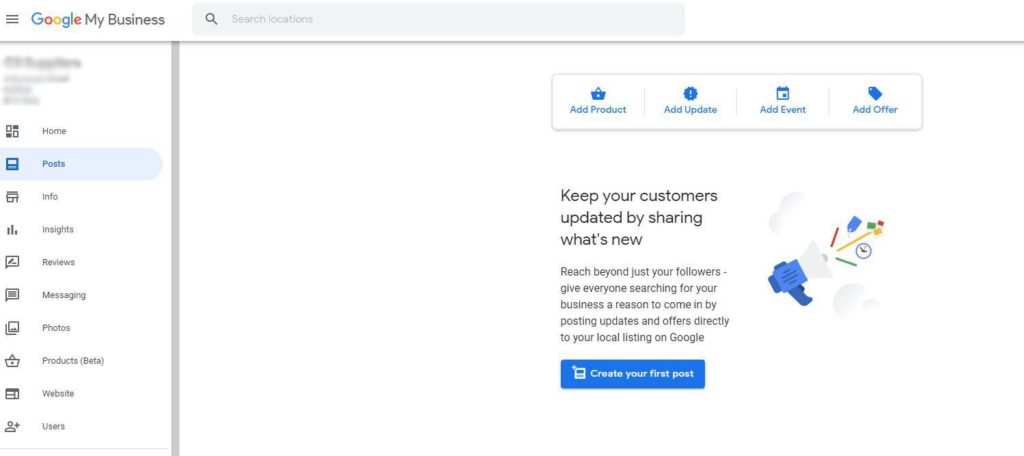 Updates
Updates are a useful way to provide information to users about your business. When creating an update post on Google My Business you are able to add an image, text, and a call-to-action button. This button can be a link to a specific page, such as "Learn More" as seen below. The other available call-to-action buttons which are available are; Book, Order Online, Buy, Sign Up, and Call Now. The call-to-action that you choose will be dependant on the content of your update.
In the image below we can see how the update on the Codefixer Google My Business shows up under the Google My Business listing on a search for "Codefixer" on a desktop PC.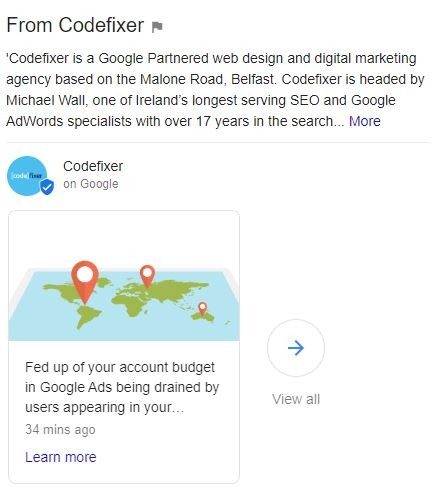 Products
Products are a new(ish) feature in Google My Business and in Beta. Product posts allow us to show an image, product name, category, price or price range, description, and call-to-action button. The options for the call-to-action button text are; Order Online, Buy, Learn More, & Get Offer. Products, much like updates appear as part of the Google My Business listing. We can see this below on the Barrington Security Google My Business listing (if you need a safe, check out Barrington Security!!).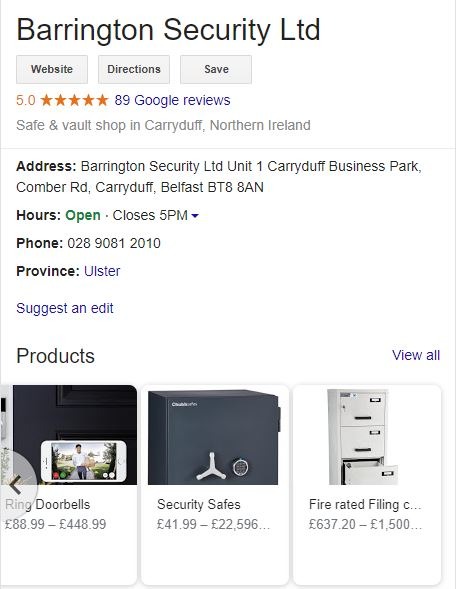 Offers
Offers are the 3rd way of using Google My Business this festive season to increase sales! Using Offers on Google My Business allows us to directly communicate our festive deals to users on Google without them having to click through on to the site. Offers allow us to display; an image, title, start date, end date, details, coupon code, link to redeem offer, and terms and conditions. The last 4 options here are all optional, however, it's always best to include as much information as possible. Offers & products can be used alongside one another to provide tons of information to users without them having to visit your website. These aren't only beneficial for retail businesses and can be used for service-based businesses too. Are you offering free consultations in December? Brilliant, set up an offer for it!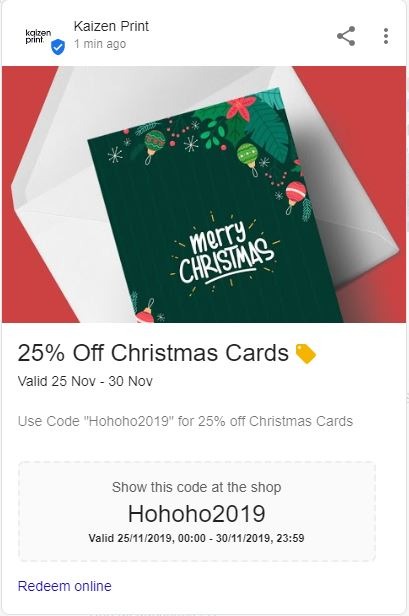 Conclusion
Google My Business is an extremely powerful tool, especially when trying to dominate the local market and get ahead of the competition. It's completely free, provides tons of useful tools, and with the right mix can generate customers very easily. This is one of the easiest ways for us to communicate with our customers and should be treated as part of your online presence. Ensure that opening hours are updated to reflect seasonal changes in business and that it's kept up-to-date with any changes to the business reflected here. Google My Business is not only a way for us to communicate our products and offers, but also one of the main ways users call and navigate to businesses. When a user searches for your brand on Google, it's often the Google My Business listing that appears there.