When we think of search engines the first thing that comes to mind is Google.
For the vast majority of people, Google is the go-to search engine to find information online.
However, Google is not the only search engine available, the next biggest search engine online is Microsoft's Bing.
It can be easy to dismiss Bing as not being important but by doing so you're potentially missing out on additional website traffic and revenue for your business.
While Google controls a staggering 86.38% to 92.59% of the UK market, Bing respectfully controls between 4.82% and 9.72%.
In comparison to Google, Bing's overall market share is tiny but that doesn't make the traffic any less important. 
If we take a moment to think about what Microsoft is famous for the first thing that comes to mind is their operating system, it's typically the most common operating system found in households, businesses and schools. 
If we look at the average personal computer in households today it's a windows computer, which typically comes pre-installed with Microsoft's own web browser Edge with the default search engine being Bing. 
Google usually isn't the default search engine on a Windows machine and will typically be configured by the user. 
However, a portion of those users won't make any changes to the default settings and will just use the pre-configured setup which will favour Microsoft's own product range, this crowd will typically be an older crowd that aren't tech-savvy or just don't care and want something that just works out of the box. 
According to this source over 70% of those who use Bing are older than 35.
What this highlights is that users of Bing are older, this statistic is important to consider because typically what comes with age is more financial resources with more disposable income to spend on products and services.
If your ideal customer is over the age of 35 and you're not utilising Bing you're potentially losing out on thousands of pounds in revenue, all of a sudden Bing's 4.45% market share doesn't look so tiny.
The good news is we have you covered, as we are going to share with you how to optimise your website to meet Bing's webmaster guidelines. 
On the 30th of June, Bing webmaster team tweeted that their guidelines had been updated on how Bing discovers, crawls and indexes content.

To perform well in search results it's important to first understand the guidelines laid out by the search engine. We did this previously with Google's guidelines with a focus on E-A-T why it's important. 
Similar to that article we are going to highlight some of the points covered in Bing webmaster guidelines to consider when optimising your website for Bing. If you would like to read the official Bing webmaster guidelines you can find them here.
How to help Bing discover your content
Similar to how Google discovers content, Bing relies on the same methods to discover, crawl and index pages, these are the following.
Submit a sitemap
To help Bing discover your website, it's important that you submit a sitemap to Bing webmaster tools, this will allow Bing to discover and crawl all of the available URLs on your website.
Typically your website sitemap can be found by typing in your URL followed by /sitemap or /sitemap.xml if you can't find your sitemap in this location, we advise you contact your web developer to help you create one.
See our website for example  – https://www.codefixer.com/sitemap.xml
If you have a WordPress website, you can automatically generate one with one of the many SEO plugins, we typically advise our clients to install Yoast to do this for them.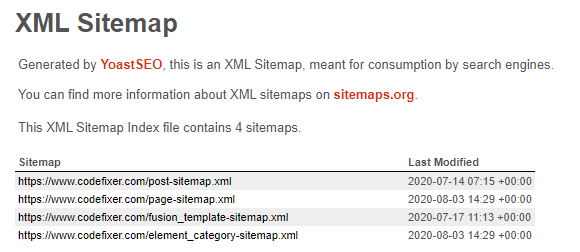 If your website is not built on WordPress, we advise that you speak to your website developer who will be able to create a sitemap for you.   
Once you have a sitemap created, login to Bing webmaster tools and submit your sitemap, under the sitemaps section on the left-hand panel, you will then see the following screen.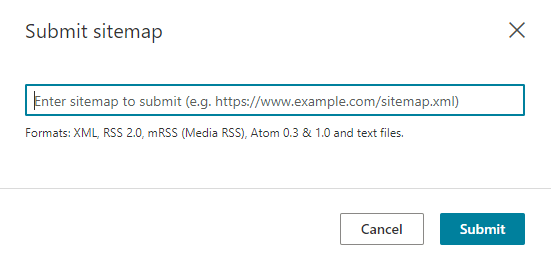 Robots.txt 
Don't forget to include your sitemap in your robots.txt file, if you're already investing in SEO for Google, you are probably already aware of the importance of a robots.txt. 
Essentially, the robots.txt file informs search engine crawlers where they can locate the sitemap and which areas of the website they can crawl and which areas they should ignore. 
Bings guidelines on content
Create content for users, not search engines
A few years it was enough to stuff your content with your target keyword and you would appear for that search query. 
Search engines have since evolved and stuffing your content with keywords isn't going to cut it.
When creating and optimising content, it's important to make sure that your content is the most relevant and aligns with the search intent. 
To ensure your content is relevant it's important to carry out keyword research and analyse the search results to understand what Bing is rewarding for any given keyword.
Create high-quality content
The best way to improve rankings on Bing is to create high-quality content, before creating new or updating existing content for a target keyword, check to see the level of quality Bing is currently rewarding for that keyword.
Things to check: 
Are the websites in 1st, 2nd and 3rd place satisfying search intent and is the content relevant? 

How well is the content written?

How long is the content for that keyword?

Is the content engaging? 
By analysing the top 3 results for your keyword, you will have a better understanding of what Bing is rewarding.
Create unique content
Every piece of content on your website should be unique, do not reuse content from other websites. 
Bing is smart enough to know when content has been plagiarised and can lead to your website being penalised for duplicate content.
If you can't write the content yourself, outsource it to a writer who can, by doing so you give your website the best possible chance of ranking for your target keywords. 
Add images or videos
Include unique high-quality images that are relevant to the topic, avoid stock photos and large images that slow the website down and include descriptive filenames that describe the image. 
Images are by far one of the most common issues we come across when doing website audits, these include large images that slow the website down and filenames that look like someone's credit card number. 
If relevant to the page try and include video but avoid using stock or low-quality video as well as large video files that may slow down your website.
Invest in on-page SEO
On a regular basis, we review websites with poor on-page SEO, websites that are missing important HTML elements. 
These include: 
Missing page titles

Missing meta descriptions

Heading tags that don't follow a logical structure

Missing ALT tags 

No Internal linking
On-page SEO is often overlooked and deemed as not important but when combined with great content can make a huge difference in rankings. 
Bing has even released an on-page analyser that will check the webpage for the above elements – https://www.bing.com/webmaster/help/seo-analyzer-97615e21
How Bing ranks content 
If you want to rank on Bing, their guidelines explicitly tell you everything you need to know to stand the best possible chance of succeeding in their search results. 
Their guidelines state that their search results are generated by their algorithm in the same way as Google generates their search results.
Their section on how Bing rank content starts with stating that Bing does not accept payments to manipulate rankings, instead websites can choose to use their advertising platform instead for more exposure. 
They also go on to state that they will not prioritise Bing products or services in search results and instead favour the following factors to influence search results.
Relevance
Bing's first ranking factor is relevancy, this is based on how well content on a given landing page for a specific keyword matches the intent behind the search query.
As we discussed earlier in order to stand the best possible chance of ranking on Bing it's important to do proper keyword research and analyse first page results to make sure content is satisfying the search intent. 
Quality and Credibility
Bing defines quality and credibility by evaluating the website's reputation and the authors of the website, Bing also considers websites that provide citations and references to information to be of higher quality than websites that don't and may even demote sites that use foul language to make a point. 
User engagement 
Bing determines user engagement by placing importance on click-through rate and bounce rate, the search engine favours websites with a higher clickthrough rate and a lower bounce rate, as a higher clickthrough rate would indicate the result is relevant and a lower bounce rate would indicate search intent is being satisfied. 
Content Freshness
Bing prefers fresh content, they will reward websites that are actively keeping their information up to date as this provides the best experience for their users. 
Location 
Bing places importance on the location of the user and where the website is hosted, the language of the website, or the location of other visitors to the page.
Page load time
Similar to Google, Bing places importance on the loading time of a website, there is nothing more frustrating than a slow website and Bing views this a bad user experience as this can lead to users leaving your website before the website loads.
Final thoughts
Bing's webmaster guidelines provide clear and actionable insights to get the best possible results on Bing and what practices to avoid in order for your website to stand the best possible chance. 
To summarise, websites that load fast, provide unique high-quality content that is kept up to date and matches search intent will be rewarded.
Websites that provide low-quality content that is scraped or plagiarised and engages in cloaking, keyword stuffing, link schemes or other malicious behaviour will incur ranking penalties.
If you would like guidance on optimising your website to meet Bing webmaster guidelines, our SEO team can provide an in-depth audit and suggestions to improve your organic visibility in Bing.