What is E-A-T?
E-A-T was mentioned by Google in 2015 when it officially released its Search Quality Guidelines and stands for Expertise, Authoritativeness, and Trustworthiness (E-A-T). The purpose of E-A-T is to regulate the quality of the content being produced by websites.
Websites are manually reviewed by Google quality raters whose job it is to assess the quality of the search results on Google, the 168-page document produced by Google gives you an extensive insight into what the Google algorithm deems as important.
It's understood that if a Google quality rater marks a website with a low score, it doesn't directly impact the website rankings on live search results, instead, the data is used to improve Google algorithms over time and to help deliver better search results.
Google defines E-A-T as follows:
Expertise
Expertise is defined by having a high level of knowledge or skill in a particular field. Google is looking to make sure that websites are producing content by industry experts on topics that are related to the niche in which the website is targeting.
Authoritativeness
Authority is when a person or the website is seen as the authority in a given space. Authority can be defined with credentials, reviews, testimonials, and even a personal brand. Content written by an authority figure in a given field is going to carry more credibility in the eyes of Google.
Google can assess the authority of a given website author by searching for their name in Google and excluding their website from the search. This will return other websites where the author has been featured or mentioned and can help Google's human search evaluators to evaluate if the author is considered authoritative within that field.
Trustworthiness
Trustworthiness is evaluated by the accuracy and credibility of the information being shared by the website and its author, this ensures that content being produced is factual and not misleading to potential readers. All content that has been written should be based on research or statistics to back-up the accuracy of the content, trustworthiness is also measured by the reputation of your business or website.
Overall, Google wants to ensure that websites are creating high-quality pages with content that is informative, accurate, and has been written by an expert with some sort of credibility.
This is especially true for topics that Google refers to as "Your Money or Your Life" (YMYL) topics. These are topics which could potentially impact a person's future, health, wealth, or safety.
What is considered YMYL?
YMYL is an acronym that stands for "your money or your life" and was referenced by Google in their quality raters guidelines as to content that could potentially impact a person's future happiness, health, financial stability, or safety.
It could be speculated that there is a relationship between the E.A.T and the Google medic update in 2018 which impacted many websites in the health and wellness niche, topics that would be considered as your money or life (YMYL) topics.
So what topics do Google consider YMYL?
The following are examples of YMYL topics mentioned in Google's search quality guidelines: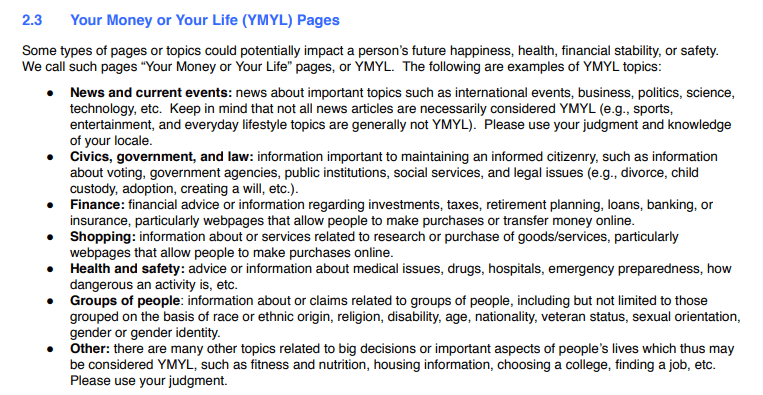 Google states that websites covering these topics must have the highest level of E-A-T, meaning the content must be written by an expert in the given field. The writer must be credible on the given topic and the content must be factual which is based on research and not assumptions.
Content related to YMYL is treated with the highest standards because these topics could negatively impact a person's future happiness, health, financial stability or safety.
Why E-A-T is important?
The reason E-A-T is so important and why Google is enforcing these guidelines more and more is due to consequences a potentially wrong answer could have on a person's life and wellbeing.
For example, a solicitor's website is more qualified to give legal advice regarding personal injury claims than someone sharing legal advice on their personal website based on their personal experience.
To prevent the wrong information being given to someone searching "How to make a personal injury claim?" Google quality raters evaluate the search results for that query and check if the websites being listed for that query are qualified to answer that question or give advice on that subject.
When it comes to YMYL topics, Google's human search evaluators check for formal expertise in the given topic to ensure that the information being shared is from a reputable source.
However, Google does state that for non-YMYL topics, it's more about demonstrating relevant experience and "everyday expertise."
Examples of Non-YMYL topics can range from sports, entertainment and everyday lifestyle topics.
How to be E-A-T compliant?
Now that we know what E-A-T and YMYL are and their importance, the next step is to ensure that you stay compliant with Google E-A-T guidelines.
Visible author box
All content should have a visible author box that displays an image of the author with proof of their expertise on the topic being discussed. This allows Google's human search evaluators to quickly assess if the author is qualified to write about the given topic.
Make sure content is up to date and factual
To demonstrate expertise, authority and trustworthiness ensure that all content is up to date and factual, especially for topics related to YMYL.
If the information is not accurate and does not display E-A-T characteristics your website rankings could be impacted.
Manage your reputation
Testimonials are a great way to show authority and trust in the eyes of Google. In the search quality guidelines, quality raters are advised to check review websites to evaluate if a website or business has a good reputation.

This should be enough of a reason as to why testimonials are an important ranking factor. If you don't currently have testimonials, this is the time to put a strategy in place to start collecting and displaying testimonials from customers.
Make sure your website is secure
If your website regularly collects personal information, payment details, or other sensitive information you will need to make sure that the website has a working SSL certificate. This plays a huge part in the trust aspect of the Google E-A-T guidelines, as an unsecured website could put a visitor's sensitive information at risk.
Contact details should be visible
Google states that contact information should be easy to locate, such as your phone number, email address, address for exchange and returns, etc. This is very important for websites that handle money and transactions and is less relevant to personal websites.
Final thoughts
It's clear by now that E-A-T is important, and Google quality raters will continue to use these guidelines when manually reviewing websites.
To ensure your website is compliant with Google's guidelines it's worth reading over the search quality guidelines to better understand what Google deems important.
The key takeaways are as follows:
Make sure content being published on your website is unique, factual and has a visible author box that provides proof of expertise, especially if the topic falls under YMYL.
It's important to understand that you don't need to build a personal brand or to be an authority figure within your industry, a simple link to your LinkedIn profile should be sufficient enough to show your expertise.
We would also suggest that you implement author schema to your website to further indicate to Google you are actively trying to follow their guidelines.
We would also suggest that now is the time to start focusing on reputation management and start actively asking customers to leave positive reviews on business directories like Yell, Google My Business, and your website. This shows Google your business is trustworthy.
In a recent Google update they released a "Find results on" feature which showcases business directories at the top of search results. This is why reputation management and showcasing positive reviews from customers should be a priority, Google deems it important, especially if you're a local business.
If you still aren't sure if your website is compliant with Google E-A-T or YMYL guidelines get in touch and our SEO team can audit your website and provide further guidance.