What are Brand Keywords?
Brand keywords are keywords that include the name of your brand, or keywords associated directly with your brand. They can refer to; trading names, limited business name, business slogans, previous brand names, products, and trademarks.
The Basecamp Incident
At the beginning of September Jason Fried, Founder & CEO of Basecamp (a product we love at Codefixer) Tweeted saying that Google Ads putting 4 paid ads ahead of organic listing was a shakedown & a ransom. This brought the idea of Branded Google Ads campaigns to the forefront of the discussion surrounding Google on the Twittersphere and brought the situation to light.
Essentially, competitors can bid on your trademarks and brand keywords in the hope of the person conducting the search will click (sometimes mistakenly) on their Ad rather than your organic (non-paid) result below. There is nothing prohibiting competitors from bidding on your keywords, however, if they use your trademark in their ad you're within your right to raise a trademark complaint, more information can be found at help for trademark owners – Google support.
For competitive keywords, there are often up to 4 Ads above the organic results & another 3 below, this makes it more difficult for users to find you organically.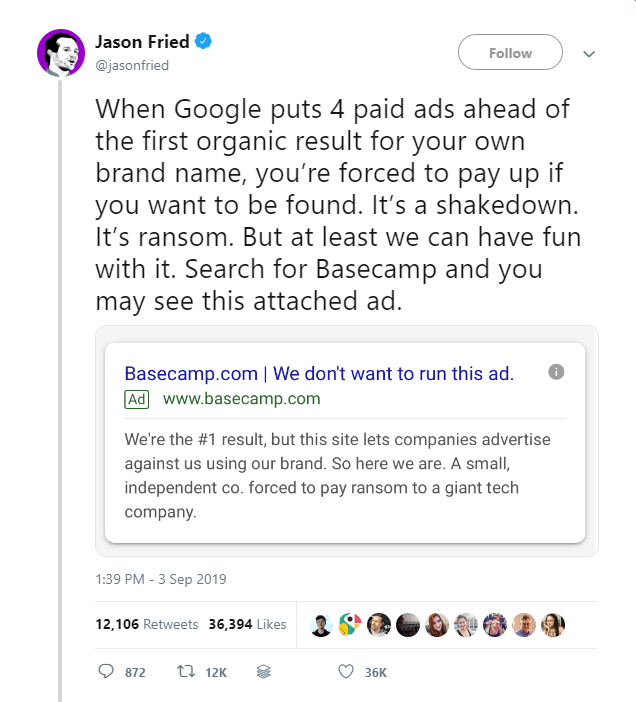 When Should You Bid on Brand Keywords?
If you are currently running a Google Ads campaign or planning to start advertising on Google it's usually beneficial to bid on your brand keywords. The screenshot below shows a search for us, Codefixer on Google, in Northern Ireland. From bidding on our brand keyword, Codefixer, links to codefixer.com are often going to cover the majority of the search engine results page above the fold with the results below consisting of other earned & owned media. The Google Ads result at the top also allows us to tailor how users will see the search results much more acutely than from normal page titles, meta descriptions, and marked-up data. In the image below there is a call extension, sitelinks extension, callout extension. Your brand campaign, as with any other Google Search Ad, allows us to choose headlines and descriptions to appeal to our audience and provide information about Codefixer.
Creating a brand campaign on Google Ads is most important if;
Your brand shares a name with something else
You don't have a website and hoping to run Call Only Ads
Your competitors are bidding on your brand keywords
Your current website doesn't rank for your brand keywords
There  are disparaging results about your brand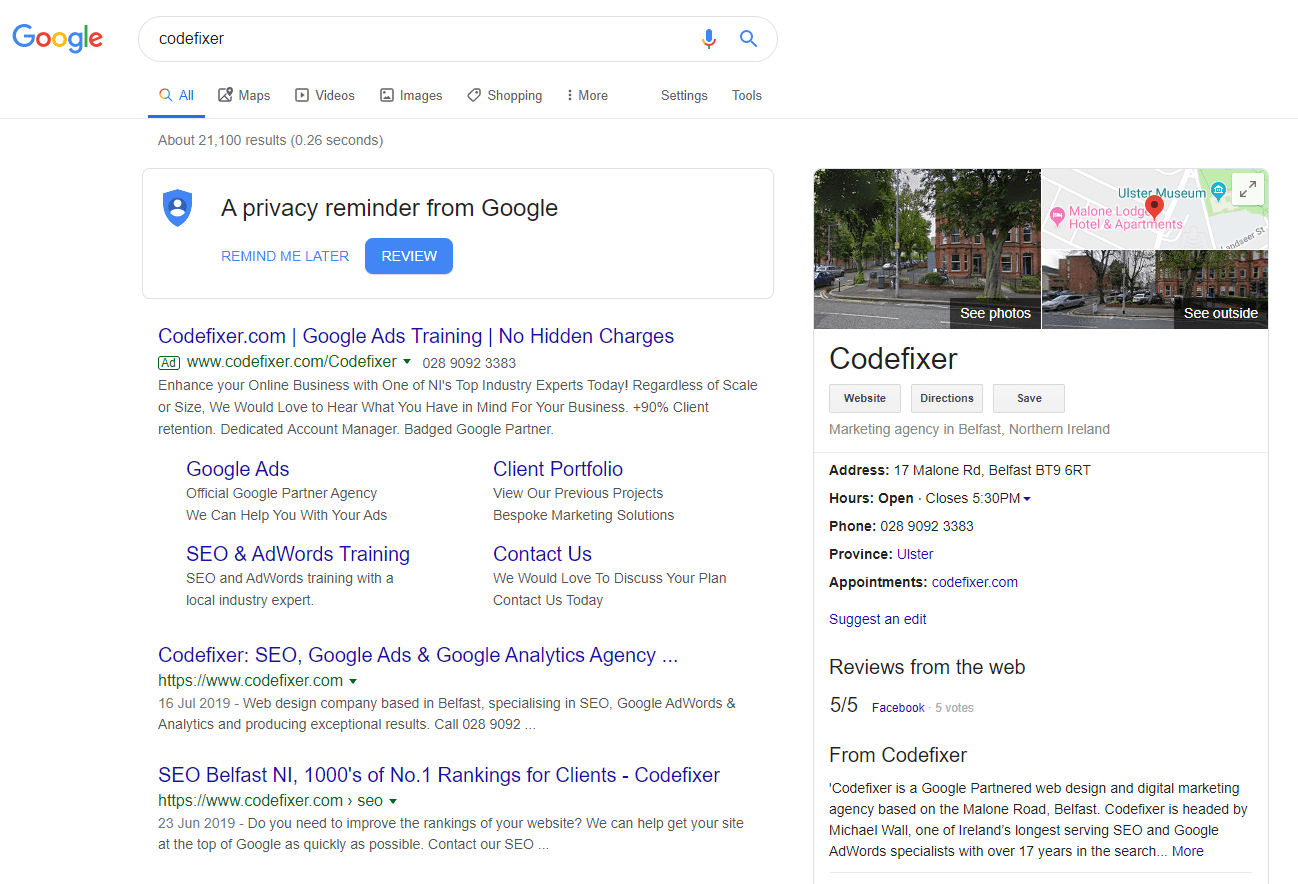 Pros & Cons of Bidding on Brand Keywords
The average cost per click for a brand click is generally considerably less than that of a click from a user searching for a type of product or service that you offer. The average cost per click is less for a number of reasons; the relevance of your website to the keyword should be much higher than that of a competitor, your clickthrough rate should be very high, the keyword should be less competitive than your non-brand keywords, all of which increase the quality score of your ad. It is not unlikely for competitors to bid aggressively on the brand keywords of their competition, if your brand has been affected by competitor brand bidding and left unnoticed you can often lose 30% website traffic almost immediately. It is, therefore, imperative that monitoring brand keywords should be a regular component of your Google Ads management.
As discussed above, you also have more control over how you appear to users searching for your business and can include Ad extensions providing a more tailored ad for the customer depending on their search, and also allows you to accurately track what customers do when they search for your brand.
Conclusion & Considerations
In conclusion, I would suggest to at least consider running a brand campaign if you're currently or hoping to start running a search campaign on Google Ads. The benefits are certainly worthwhile when considering the reduced cost per click whilst protecting your brand from competitors, and owning more real-estate on the search engine results page. Brand campaigns can protect your business from competition or poor search results and provide a  better user experience to customers who can benefit from extensions such as sitelinks and calls.
One thing to carefully consider is to diligently monitor your search terms report to ensure you aren't paying for clicks for similarly named competitors, or other wastage. Also, ensure you have picked the correct bid strategy. I would usually begin with manual CPC with enhanced enabled and start bidding low, adjust accordingly dependant on search impression share and absolute top of page rate.