Something of a reoccurring theme in our Codefixer Blog is preventing Google from spending our ad budget on users outside of our chosen targeting. For instance, if we are hoping to target users who live in Belfast, and have visited the Codefixer page for Google Ads in the last 90 days, you would presume that all you would need to do is; create a new Display Campaign, create an Ad Group, select your remarketing list in the audience panel, set the location as "Belfast", and throw a few images in there, right?
Wrong…
We have previously discussed different ways Google claws ad budget from unsuspecting advertisers, such as; Google Ads Showing To Users Outside Your Target Locations & Removing The Ability To Exclude Apps From Display Campaigns. Well, today we have another tip, this time, how to prevent Google from showing your display ads to users who aren't in your audience lists.
So, why are we finding that an audience list of, say, 1,000 users is being seen by more users than the total remarketing list membership? Well, it's unlikely you'll find any press releases or Google Blogs on the matter, likewise with the aforementioned two glaringly obvious attempts to stick their hands in our back pocket.
The issue is a default setting called Targeting Expansion hidden away in your Ad Group settings on your Google Display Ads campaigns, therefore, if you're using multiple Ad Groups in your Display Campaigns this setting will need to be adjusted in each one, which is a bit of a pain for those of us who are managing large campaigns with multiple display Ad Groups.
How To Stop Display Ads Showing To Users Not In Your Audiences
To disable targeting expansion on your Google Ads display campaigns, first, select the Ad Group you would like to disable targeting expansion on. Now navigate to "Settings" on the second column to see your Ad Group settings. On here you will find all of the normal settings you would expect to see; Ad Group Name, Status, Bidding, Ad Rotation, and Additional Settings.

Once you have selected the settings for the Ad Group which you are going to disable targeting expansion, select "Edit Ad Group Targeting" at the bottom. Your screens should appear similar to the image below.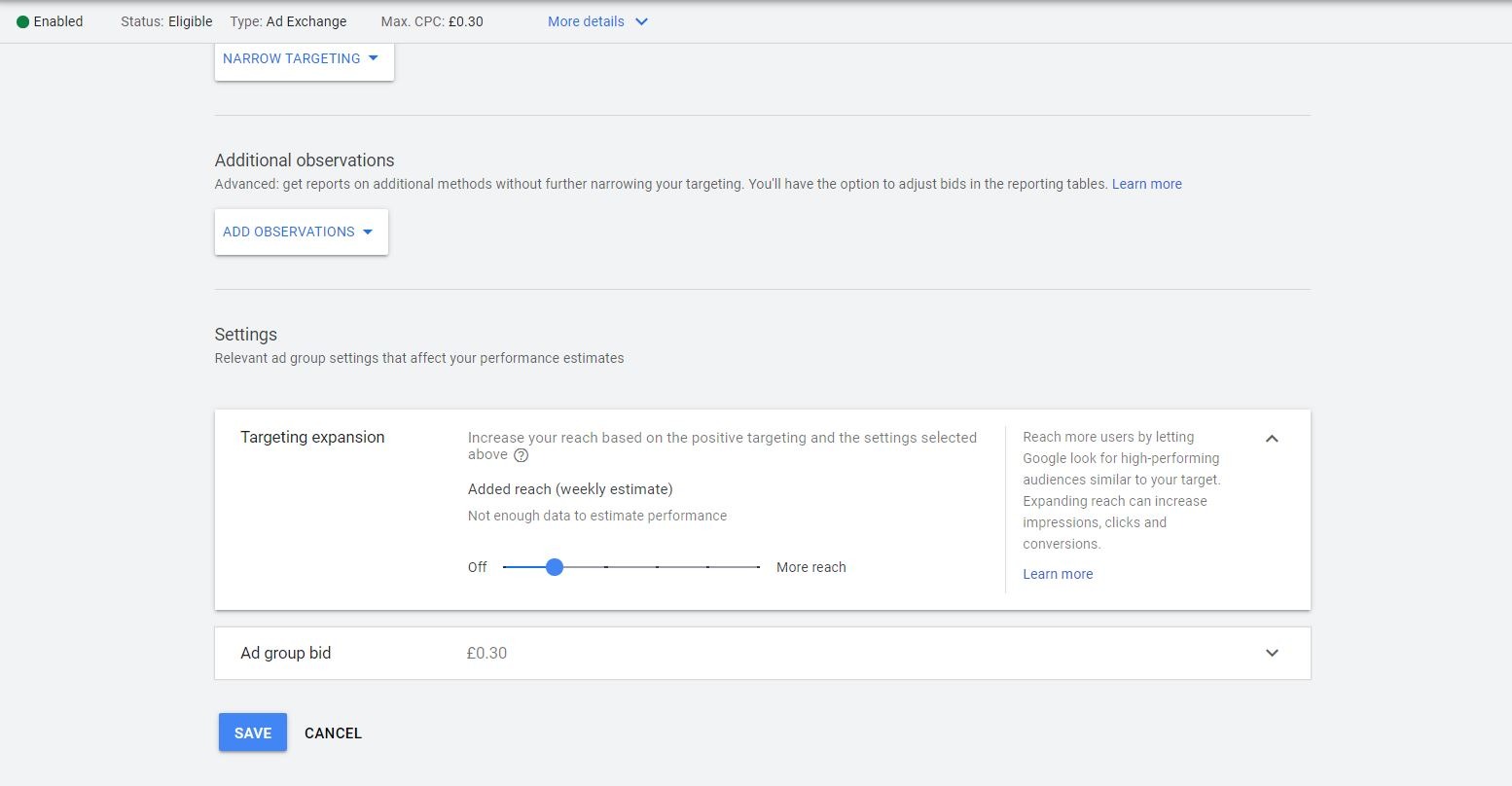 Under "Settings" on the Ad Group Targeting page, you should see a slider for "Targeting Expansion". By default, this is set to 20%. What this means is that Google will attempt to show your Ads to users who have similar browsing behaviours to the members of your remarketing list. Now, maybe if you were targeting an in-market audience, affinity audience, lookalike audience, etc, it may make sense to target a select number of users who appear to be similar. However, how can a user look like somebody that visits a website? The visitors to our website come from a wide range of groups. Some are business owners, others are internal marketing teams, Google Ads pros interested in our blog, etc. It's a pretty binary audience, they either have, or haven't visited the website in the last 90 days. There's not a lot of ambiguity on what constitutes a remarketing audience member. Anyway, alas. Once you are here, drag the blue slider to "Off" and click the blue save button underneath.
And this concludes today's lesson on how to stop Google pick-pocketing you whilst you're not paying attention.
Did you find this interesting? Check our blog for more Google Ads tricks.